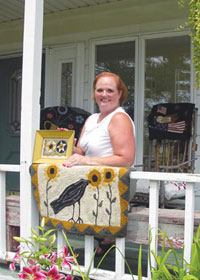 Being your own boss is a dream many people have. Making that dream come true is harder than you might imagine - just ask Barbara Kemp (B'75), owner of Hooked on Rugs and Punch Needle Patterns.
"When I expanded the business, I really maxed out every credit card I had," recalls Kemp, sitting in the dining room of her 19th century farmhouse south of Lansing. "At one point I used the remaining balance on five different credit cards and a little cash to get my car out of the repair shop. I didn't really acknowledge to myself how bad things were."
Kemp initially bought Hooked on Rugs, a business that sold rug-making kits, which includes a pattern, rug hook, hand-dyed wool and instructions. She also sold completed rugs. While the business was successful, Kemp found herself facing limits on growth.
"The rug hooking was flattening out because of the economy," says Kemp. "The least expensive kit is $48 and they go up to $270, which is cost-prohibitive for a lot of people, and it's time-consuming, too."
To address both of those problems, Kemp decided to branch out into kits for smaller punch needle projects. She resized her rug designs, added new ones by some of the country's leading folk artists, worked with suppliers, and maxed out her credit cards. Kemp introduced her new line at a trade show in Pittsburgh in spring of 2004.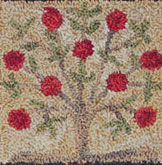 "I was the only booth that was crowded, even though there were probably a thousand booths," recalls Kemp. "When I arrived at the show I hadn't slept in my bed in two months. I'd fall asleep on the couch at about two in the morning, get up at six and start again. I was punching examples, I was still doing rug hooking and trying to get those orders out. I got to Pittsburgh, set up and then couldn't get out of my booth because I was so busy."
Kemp came home with $20,000 in her pocket, and the conviction that she'd made the right decision.
The business she launched at the show in Pittsburgh, Punch Needle Patterns, uses a technique that was popular in Victorian times. Sometimes called "Russian Punch," punch needle has ties to Slavic culture. A similar technique called Bunka has long been popular in Japan. In addition to the classic folk art look of most of her patterns, Kemp is introducing a line of much brighter colored patterns that are made using inexpensive and widely available floss.
Through each stage of her evolving business, Kemp has drawn upon her Ferris accounting degree, as well as her work experience.

"My business background definitely helped, because I'm dealing with a lot of big companies who either want to steal my ideas or steal my patterns," Kemp says, laughing. "I've worked for some start-up companies, which helps on the business end of it. I've worked really hard to develop the company name and I know what's needed."