Jeff Hephner's star rises in North Carolina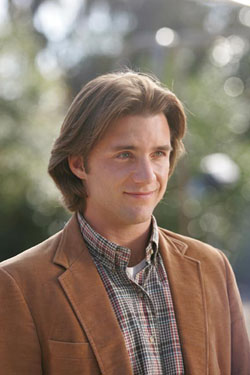 A battered red jeep pulls sharply into a dirt driveway and slams to a stop. From the back leaps an idealistic young teacher with a portable record player and stack of LPs tucked under one arm. He has just enough time to snatch an army-style duffel bag from the bed of the jeep before it speeds off. He gazes at the weathered schoolhouse, imagining the impact he will have on the lives of students living on this isolated island. As he strides across the school's dusty playground bordered by a rusty swing set, drooping basketball hoop and massive moss-draped live oaks, the sun rises above a line of pines, palm trees and several large equipment trailers.
Jeff Hephner (B'99) isn't a teacher, but he plays one on TV.
Hephner is on the set of The Water is Wide, a Hallmark Hall of Fame presentation being filmed just south of Wilmington, N.C., on the grounds of historic Orton Plantation. Everything from the schoolhouse to the "U.S. Mail Service" jeep with its Civil Defense decal to Hephner's wardrobe recreates Yamacraw Island, S.C., as the writer Pat Conroy found it in 1969 when he arrived there to teach.
In the role of Conroy, Hephner is the star of a cast that includes veteran actors Alfre Woodard (Miss Firecracker, Crooklyn , Radio) and Frank Langella (Dracula, Dave, Lolita). So while the schoolhouse might not be real, Hephner's acting career definitely is.
Thoughtful Acting
"I always wanted to be an actor. My dad told me when I was young that you become what you think about the most," Hephner says between takes, sitting on a director's chair that has 'Cast' stenciled on its canvas back. "I've been lucky enough to get some opportunities in the last three years or so with the TV show (The Jury) and now this film. I'm very fortunate."
It's a fortune largely of Hephner's own making. Although it was relatively late in life when he began to tread the boards, Hephner has progressed from community theater, to small parts in film, to leading roles in television and movies with astonishing speed.
Following an academic and athletic career at Ferris, which included being captain of the 1998-99 basketball team, Hephner decided to pursue acting ­ that thing he had been thinking most about.
"I went down to Florida and started doing some plays," Hephner recalls. "I got the opportunity act at a small community theater down at Atlantic Beach and found that I loved it."
From there Hephner landed on the set of the movie Tigerland near Jacksonville, where he was the stand-in for leading man Colin Farrell. It was an opportunity for the young actor to gain experience working on a major motion picture. While there, Hephner brought to bear the same determination and work ethic he learned on the basketball court, which combined with his acting skills, led to his first real break in the business.
"Bill Schumacher, the director, said, 'Hey, this kid worked hard, he wants to be an actor, let's see what he's got.' He gave me a small role with a line of dialog, which in turn put me into the Screen Actors Guild," Hephner explains.
On Schumacher's advice, Hephner went to New York City where he took some workshops and acted in off-Broadway theaters. "Through Backstage magazine I found information about auditions for student films at NYU. I got involved in those and it just built from there."
Leading up to his turn as Pat Conroy in The Water is Wide, Hephner landed a bit part in the film Maid in Manhattan and a lead role in the Fox Television series The Jury.
Hephner rises from his chair as director John Kent Harrison readies shooting for another exterior shot, this time showing Hephner as Conroy exiting the schoolhouse.
Harrison calls for quiet on the set and a few minutes later his assistant directors cry "Rolling!" which brings all other action to a halt ­ even the caterers with their trays of miniature quiches and the vans ferrying other actors to their portable dressing rooms. From the way Hephner lights up even the tiny monitors perched on a wheeled cart stacked with equipment, it's easy to see why he has come so far so fast.
Rising Star
With Day 17 of the film's 27-day shoot behind him, Hephner is enjoying a dinner of lightly-fried flounder at the intimate Deluxe restaurant on Wilmington's Market Street ­ his Ferris State University sweatshirt draped over the back of his chair. Even here it's clear that Hephner is a member of good standing in the fraternity of actors: He talks about theater with the waiter who is in a local play; recognizes another actor who also auditioned for the part he landed in The Jury; and points out a third actor who is appearing in the WB network's One Tree Hill, which is filmed in Wilmington.
Jeff Hephner is author and teacher Pat Conroy
Hephner relishes the acting life - even the 14-hour days filming a scene over and over from different points of view. He also relishes the opportunity to work with such pros as Woodard and Langella. Hephner has especially warm words for Langella , whom he regards as a mentor after their days together on the set.
"We ended up having dinner together every night of the week he was here," Hephner says. "He took me under his wing. I could have been thrown into the fire with some guy who doesn't care about my future as an actor, but he did. He's an old school actor who has real respect for the craft. It was such a lesson to work with a guy with that much experience."
Being used to the travel and the temporary lodgings that are such a part of his profession, Hephner is right at home at this hang-out for actors as he discusses everything from the difference between film and stage ("Not being eye-to-eye with an audience makes it very difficult to create these emotions"); to actors he admires ("Among younger guys there are people like Philip Seymour Hoffman and Johnny Depp , really quirky, cool actors who fill out a scene"); to Bulldog sports ("I'll call [Assistant Men's Basketball Coach and former roommate] Cory Anderson later on tonight to see how we did against Findlay").
The Water is Wide is tentatively slated to air this fall-perhaps in November. After the shoot is complete Hephner will move on to his next project, which currently is an independent film to be shot in Las Vegas.
But now, the call sheet for Day 18 has him scheduled for more exterior schoolhouse scenes with Alfre Woodard. There will also be a scene where Hephner , as Conroy, attempts to teach the kids some of the finer points of basketball. It's a part of the film they began shooting just before wrapping for the day. The rangy Hephner stood more than head and shoulders above the young actors playing his Yamacraw Island students while demonstrating the proper form for a set shot. Hephner then expertly arched the dusty basketball through the almost netless hoop.
Even surrounded by lights, cameras, boom mics, monitors, make-up artists, extras and his stand-in, Hephner made it look natural, as though he'd been doing this for years.