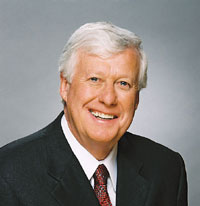 John Hare (B'68) is president of ABC Radio, a division of the Walt Disney Company, which does just under a billion dollars in annual revenues. He is responsible for the ABC Radio Network, which serves more than 4,600 affiliated stations and reaches 125 million persons weekly, and also for the division's 72 local radio stations, which reach 15 million listeners in 43 markets on a weekly basis. He talked to Crimson & Gold about his beginnings, the media business and his favorite radio program.
Crimson & Gold: What did you major in at Ferris, and how did you get into broadcast media?
John Hare: I majored in Marketing. When I graduated I went looking for a job in Detroit and ended up in radio. I had originally intended to get into television. Back then, you had to start in radio, get experience and then move into TV. So I started in radio and just never made the leap to TV.
C&G: Was there something in your life that led to your career choice?
JH: I had my eyes opened to the broadcast business by a brother-in-law who sold commercial time for an ABC-owned TV station back then, WXYZ channel 7 in the Detroit area. It appeared to be an interesting and exciting career.
C&G: How did you go from being a Ferris grad to being president of ABC Radio?
JH: I began my broadcasting career in 1969, right after I left Ferris to become an account executive at KXYZ-AM/FM, former ABC radio stations in Houston. After a series of promotions, I moved to Washington, D.C., as general sales manager of WRQX-FM. In 1980 I became vice president and general manager of WRIF-FM in Detroit. In 1984 I moved back to Texas in a similar position at KTKS-FM in Dallas. In 1986 I was promoted to president and general manager of WBAP-AM in Dallas-Fort Worth and in 1996 took over those same responsibilities at KSCS-FM, Dallas-Fort Worth as well as assuming managerial responsibility for the company's stations in Detroit. In 1997 I was promoted to group president, responsible for all ABC-owned radio stations in New York, Los Angeles, Dallas, Detroit and Washington, D.C. In February 1999 I was named president, ABC Radio Division.
C&G: Is there any such thing as a typical workday for you?
JH: No, my days are pretty varied. I deal with issues that arise at our radio stations, and with generating additional content for our Radio Network business where we originate and distribute programming such as Paul Harvey, Sean Hannity, ESPN Radio, ABC News, 24-hour music formats, Hispanic and Urban Programming, plus a "kids radio network" called Radio Disney. Also, with my involvement with our parent organization, Walt Disney Co., and their different divisions - film & studio, theme parks and network television - it's a pretty broad range in terms of my day-to-day job.
C&G: We hear a lot about media consolidation and other media changes. What kinds of things are you dealing with in your position?
JH: At one time broadcasters were only allowed to own seven AM stations, seven FM stations and seven TV stations, and could not own more than one AM, one FM and one TV station in any individual market. After the FCC relaxed ownership rules in 1996, there was a tremendous surge of buying and selling of radio stations. In the major markets, the new rules allowed you to own up to eight radio stations, but no more than five in any one service. For example, five FM and three AM stations in a market like Detroit. As the consolidation of radio has matured, the competition is more sophisticated, and the competitive challenges are greater. As radio broadcasters compete with one another in a consolidated marketplace, the industry also now faces the challenges of evolving technologies, such as satellite radio, i-Pods, cell phones, MP3 players, audio streaming on the Web.all these new technologies will be a significant challenge to terrestrial radio over the next few years. In response, over the next few years many stations will begin digital broadcasting, which means an AM radio station's fidelity quality will sound like FM, and FM will sound like CD. It should be an interesting five years ahead of us.
C&G: Broadcast radio has played such a major role in American culture. With all these changes, will there always be broadcast radio?
JH: I think so. There's always been a very personal relationship the listener has to broadcast radio; the new technologies don't have that.
C&G: What radio personalities do you as a listener think of when you think of that kind of relationship?
JH: Besides the local air talent in individual markets, the most notable nationally syndicated talent is Paul Harvey, who has been with ABC for 55 years. He has spanned my parents' generation all the way to the present. Then you have the extremes of a "shock jock" like Howard Stern, to conservative talk talent like Rush Limbaugh and Sean Hannity. Radio has really been at the forefront of pop culture for the last half century.
C&G: Where do you see the future of broadcast radio headed?
JH: I think that radio and television are going to get more and more fragmented. Network television used to have as much as 90 percent of the audience - today it's under 50 percent. The same thing is happening with radio. If you look back to the '60s, when I was a teenager, you had five or six AM radio stations in a market. Then in the seventies, you suddenly had twice as many with the expansion of FM. Today, in major markets, you're looking at 40 to 50 stations. The key is content. Whoever creates and provides the most compelling content is going to have the highest listening or viewing audience.
C&G: Will that drive for content mean more centralization or more fragmentation of the market?
JH: More fragmentation. There are now roughly 13,000 radio stations. Add to that the satellite radio companies XM and Sirius, providing 100 channels of music, news, sports, or talk content. That's an additional 200 channels, which can be heard across the country in every city. Plus, digital broadcasting will allow FM stations to create up to seven additional sub channels.
C&G: What's your favorite radio program of all time?
JH: Actually, I have two. One was from the days when I was general manager at WRIF in Detroit. It was an oldies music program that broadcast Sunday mornings, called "Chuck Roast." The other is still on the air in Dallas on WBAP, which stands for "We Bring a Program." It was one of the first radio stations licensed to broadcast in the country going back to 1922. The morning drive show programs have a news-talk format very similar to WJR in Detroit and appeal to an older demographic.
C&G: Looking back to your years at Ferris, what helped you get where you are today?
JH: For one thing, just being away from home and on my own was significant. Fraternity life when I went to Ferris was very popular. Having the relationships, needing to work within a structure and having some influence within an organization was important in my development. When I look back on it, the four years I spent at Ferris State College had significant impact on my ability to learn, work, study, find employment and ultimately be happy with my life. I grew up in Royal Oak, went to Royal Oak-Kimball High School and I was the first in my family to attend college. I have never felt that Ferris, as an institution, has ever received due recognition for what it does for its students. It was at Ferris that I realized there was much more to life than the neighborhood block I lived on.