If you knew as much about Romania as Tim Essebaggers would like you to, you'd know that even Tarzan is Romanian.
It's a long way from Big Rapids to Bucharest, but Ferris State graduate Tim Essebaggers (AS'75) feels right at home in Romania.
After graduating with a Human Services degree in 1975, Essebaggers served as a Peace Corps volunteer in the Philippines for two years before settling down in the States. In 1983 he began to work for the U.S. Government as a property manager in Alaska. In 2001 Essebaggers decided to combine his professional experience with his love of international travel and successfully applied for a position with the United States Agency for International Development.
USAID is the primary U.S. Government agency that manages foreign economic and humanitarian assistance programs throughout the developing world. Its famous logo ­ two clasped hands superimposed upon a red, white, and blue shield ­ is recognized around the globe as the sign of American generosity and friendship. Its programs are tailor-made to respond to the unique needs of each recipient country. In Romania, where Essebaggers works as USAID's executive officer, the objectives of the U.S. assistance program are to support economic freedom and growth, democratic attitudes and institutions, and improvements in the Romanian quality of life.
"Romania's an incredibly interesting country," says Essebaggers. "In its 2,500 years of history, it's known only 15 years of democracy. If you look at it from that perspective, its achievements are simply amazing."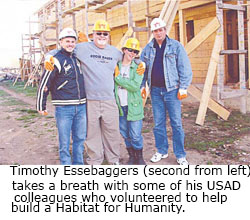 Until recently, Americans in the know tended to think of three names when they thought of Romania: Dracula, the vampire count of the Bram Stoker novel; Nadia Comaneci, the gymnast who won six medals and scored a perfect 10 in two events in the 1976 Olympics; and Nicolae Ceausescu, the communist dictator who ruled Romania from 1965 until the 1989 revolution.
"It's a shame," Essebaggers says. "Those are important historical figures ­ even Dracula! But they're not the most important things to know about Romania."
The real Dracula, by the way, was Prince Vlad III, known as "Vlad the Impaler" after his preferred method of dealing with his enemies. It's estimated that he killed between 40,000 and 100,000 people during his 15th-century reign. Because many of those were invading Turks, he is celebrated as a hero by Romanians. Legend has it that he was buried on the grounds of a Romanian monastery, but a 1931 archaeological excavation found that Dracula's coffin had disappeared!
"Tarzan was Romanian, too," Essebaggers adds. "The actor Johnny Weissmuller was originally from Timisoara - a beautiful city in the western part of the country. And Elie Wiesel [winner of the Nobel Peace Prize and author of Night] is from a tiny village in the north, Sighet."
Many famous modern Romanians have made their mark in the world of sports. Tennis players Ion Tiriac and Ilie Nastase, soccer star Gheorghe Hagi, and NBA icon Gheorghe Muresan all hail from Essebaggers' host country.
"It's wonderful to be here, representing the United States at such an exciting time," he says. "My job is to help keep USAID's activities up and running. My staff and I handle everything from the procurement of supplies and services to the comfort, security and safety of the staff."
But he doesn't spend all his time at a desk. An enthusiastic volunteer for a variety of causes, in November Essebaggers helped Habitat for Humanity build a home for a needy family in the village of Beius.
"It was a very emotional experience. We built the home in memory of Mihai Samuila, a Romanian soldier who died in Afghanistan in 2003. He and his family lived in a Habitat house themselves. As an American working overseas, it meant a lot to me to honor a Romanian who fought and died alongside American soldiers."
The common thread in all Essebaggers' stories is the value he places on the relationship between the United States and Romania. For him, it is a personal connection. "My friends aren't just Americans," he says. "I spend considerable time with my Romanian friends. Romanians are very hospitable, very welcoming. It's a shame Americans don't know as much about Romania as Romanians do about the States."
What's next for Essebaggers? "I'm not completely sure," he says. "I do, however expect to be here until 2008 after which I will be reassigned to another developing country. Right now, I'm living life to the fullest, doing my job and enjoying as much of Romania as I can." He suggests that "you should consider Romania as a vacation destination to visit the ski slopes of the Carpathian Mountains, Black Sea resorts, castles and monasteries or to simply float down the Danube on a cruise ship as you enjoy the sights and incredible local wines."
For more information about USAID, visit www.usaid.org; for more about Romania, go to www.romania.org.