Mike Potter burns the midnight oil at "The Late Show with David Letterman"
Gaining work experience through an internship is an essential part of earning a degree in many of the programs at Ferris State.
Ferris students have interned at Walt Disney World, on Capitol Hill and even overseas. All internships offer opportunities to gain important workplace experience, but not many of them include the chance to be on national television.
That was just one of the tasks that Technical and Professional Communication major Mike Potter performed while helping to produce "The Late Show with David Letterman" from the 14th floor of 1697 Broadway in Manhattan—better known as the Ed Sullivan Theater.
Besides his duties at "The Late Show," Potter made visits to Ground Zero and the Statue of Liberty, explored Greenwich Village, watched street performers in Washington Square Park and heard the Dave Matthews Band perform in Central Park.
As for the work experience he gained, excerpts from Potter's memos say it best.
From the home office in Big Rapids, Michigan
Final Report:
TOP TEN REASONS FOR INTERNING AT "THE LATE SHOW"
10
New York City.
9
Salma Hayek.
8
Getting hands-on experience in the television and entertainment industries.
7
An internship in Manhattan relieves the burden of having too much money.
6
Getting paid to appear in skits for national TV.
5
The interesting staff and crew members.
4
Why not?<
3
All the freebies.
2

Jennifer Garner.

1

And the number one reason for interning at "The Late Show"...

Having David Letterman on your resume, of course.
Week 1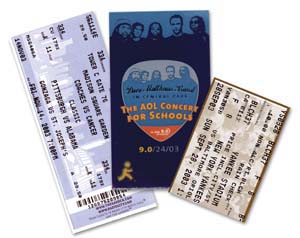 My first week of interning at "The Late Show with David Letterman" was quite the learning experience. Besides memorizing new names and faces, I also had to pick up on my daily tasks, which include distributing memos, ordering dinners and updating the guest boards in the conference room and in the head writers' office, while experiencing as much of the city as possible.
I also have to pick up the show rundowns, mail out release forms, run various errands and sort through the viewer mail to pick out nominees for the "CBS Mailbag."
I work directly for Bob Borden, the head writers' assistant, and indirectly for the head writers/producers Justin and Eric Stange.
Week 2
My "office" is a desk in the hallway outside of the head writers' office—directly across the hall from announcer Alan Kalter and down the hall from cue card "boy" Tony Mendez. I lucked out because I get my own space with a computer, while some interns only get a desk to themselves or have access to computers, and have to share with a lot of others in "Intern Alley."
I was on TV for a few seconds last Monday during a clip for the Labor Day Barbecue on 53rd Street. I also got to watch a few minutes of the show ("Will it Float?" and "Stump the Band" segments) from the production shack, located stage left behind Dave's desk.
Week 3
Caught a glimpse of Salma Hayek as I was taking a tape back to the writers outside of Dave's dressing room.
Simon and Garfunkel performed two songs, which were the best performances I have seen while here. Dave also announced that he was going to be a father. I think only a few people knew, and that he was going to say it on air.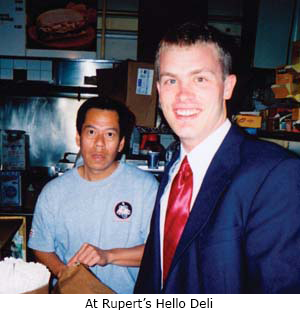 Week 4
We had a short week of work because we weren't taping any new shows. Most of the staff was busy preparing for the trip out to L.A. for the Emmy Awards.
Week 5
I started off the week by going to the Monday morning production meeting and getting to sit in the control room during the taping of the show that afternoon. It was really cool to see how they run the show from behind the scenes, listening to the director call all of the camera shots and hearing the producers discussing upcoming acts.
Thursday was a good day because Jennifer Garner, my favorite actress, was on the show. I was hoping to meet her, but we were too busy for me to go down to the green room or the stage.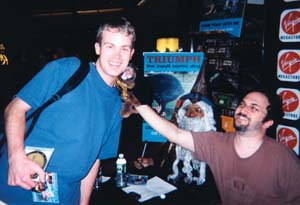 Week 6
On Thursday I met Executive Producer and CEO of Worldwide Pants Rob Burnett in the elevator. After the introductions, he asked where I was from, what school I went to and what department I worked in. Later, after both tapings, I ran a memo down to someone on the 12th floor and had to wait in the hall for a conference to end.
As I waited, Letterman came strolling down the hall with his assistant, Laurie Diamond. I got to say "Hi" and introduce myself to him for the first time. I thought I was the last intern to meet him, but I guess I'm one of the few to actually do so.
Week 7
On Thursday, my brother came out to visit. I got Jeff's ticket lined up for the second taping that day, so he got to see Charlie Sheen and John Mayer. After the show, my bosses asked me to bring him up to meet them and to give him a tour of the building. Then they let me take him down to the stage. We posed for pictures behind Dave's desk, with the other one of us sitting in the guest's chair.
On Friday, the Stangels invited Jeff to come back and visit. They put both of us into a pre-tape for a CBS Mailbag skit that could make it on the air.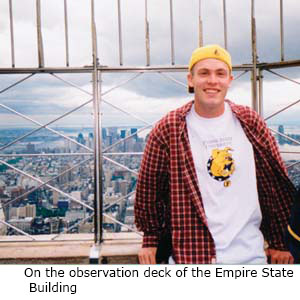 Week 8
Wednesday was Bob's birthday, so some of the others on the floor arranged a call from Gene Simmons of Kiss. All the writers gathered in the conference room and listened to Simmons on speaker phone. It was weird getting to hang out with the writers "off the clock" like I was one of them—or at least not just an intern.
Week 9
It was a pretty slow week at work because we didn't tape any shows. On Sunday, I went to the live CBS pre-game show "NFL Today" and saw Dan Marino, Deion Sanders, Boomer Esiason and Jim Nantz. It was pretty cool to see that show done from behind-the-scenes.
Week 10
The skit with my brother and I aired on Wednesday night's show. On Friday I was sent to wardrobe so I could take part in another one – we went out onto 53rd Street and shot a NYC Marathon skit.
Over the weekend I got to see the real marathon, right by the finish line at Central Park. It was cool to see how much people supported the runners, no matter who they were or where they were from.
Week 11
The big news this week was that Dave's girlfriend had a baby, Harry Joseph, late Monday night, so everyone here was really excited.
On Tuesday, I went to meet comic Robert Smigel and his puppet "Triumph the Insult Comic Dog," at the Virgin Megastore in Times Square where he was promoting his new CD.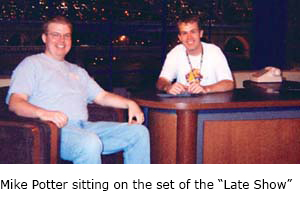 My main job Friday was to find as many obscure Arnold Schwarzenegger movies as I could, so I headed down to the Megastore and ended up getting three films that I had never heard of before. The Stangels will probably be using clips from those movies in the next few weeks to make fun of Arnold even more.
Week 12
On Friday I got to pose as Dave's body-double for pictures that might be "Late Show" Christmas cards. It was cool to do and I'm supposed to get a copy of the pictures sometime in the next few weeks, even if they don't use them.