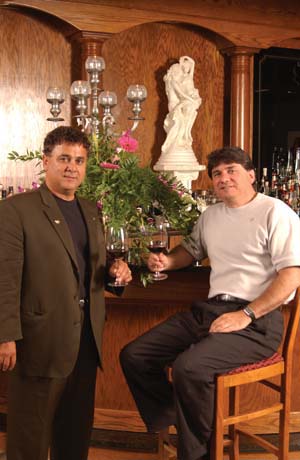 After the lunch crowd has thinned out, Noto's restaurant on Cascade's busy 28th Street, just minutes from Gerald R. Ford International Airport, is a little oasis of calm. Those diners still at their linen-draped tables linger over dessert—perhaps an Italian-style bread pudding topped with a white-chocolate vanilla custard, a cannoli with sweetened riccota cheese and chocolate shavings, tiramisu or triple-vanilla crème brule with carmalized sugar topping and fresh mixed berries—and sip their cappucino.
At a table near Noto's oak bar, co-owner Tom Noto (B'82) spreads out blueprints between plates of Filetto di Salmone and Risotto ai Vegetali, explaining how the restaurant will be expanding to accommodate more regular diners, as well as more catered events. It's an expansion made possible by careful financial planning, loyalty from staff and the video arcade boom of the 1980s.
The Restaurant Built on Quarters
"We started out in Standale in a kind of old, 1950s business strip in a building we bought in 1982," says Tom. "It was relatively inexpensive and just kind of started one step at a time."
One of the mainstays of that first site was video games. In those early days, food was secondary to the real money-maker—video games such as Pac Man and Centipede.
"As soon as Pac-Man came out, that was the craze," explains Tom. "We say that this is the house that was built on quarters. We had a snack bar where we served pizza and submarine sandwiches. The pizza business took off so we started delivering and it snowballed."
In the mid '80s traffic at arcades tapered off as Nintendo and other home video games gained in popularity. At a family reunion in 1985, Noto's father John, mother Mary, brother Tony (E'79) and sister Joanne decided to take the plunge into building a full-service restaurant, perhaps even applying for a license to sell beer and wine. The staples would be favorite family recipes for Italian sausage and peppers, lasagna and eggplant Parmesan.
They discussed what renovations would need to be done— a new entrance, new windows, additional kitchen space. They made plans for getting all the permits they'd need to get started.
The next day, John Noto passed away.
The dream of expanding the business didn't die with the elder Noto, in large part due to his old-fashioned belief in keeping out of debt. Even as the arcade business dried up, the Notoswere well-situated to expand.
"We owned all 300 video machines we had," says Tom. "At first, my brother borrowed, $20,000 to buy some games. Whatever the payment was, say $1,000 a month, our father made sure we paid $1,000 a week. Back then as the video-game business was dropping off it didn't matter to us, because everything that came in was profit since all the machines were paid for."
A Movable Feast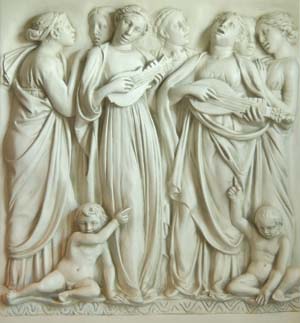 After a few months, the Notos went ahead with the plan they developed during their family reunion. They added 25 feet to the back of the building, dug a basement, gutted the rest of the building and installed new heating and cooling systems.
On their first night as a full-service restaurant, they sold four pizzas.
"So the days of the American Dream are still alive," laughs Tom, "but it only happens to those who are willing to work long enough and hard enough to make it happen."
After that first night of selling only four pizzas, the restaurant steadily gained business—especially after branching out into delivery for area college students. Eventually, the Notosran out of space in their Standale location and were unable to buy adjacent property at a reasonable price. Plus, estimates for further building expansion seemed prohibitive given the area's limited traffic—especially for lunch-time business.
The Notos looked around and decided to make the move to a new location. After studying demographics and the proximity of various businesses near the Gerald R. Ford International airport, the family decided to locate their new restaurant in Cascade on the southeast side of Grand Rapids.
Now, situated near the airport and the area's many hotels, Noto's is a culinary haven for travelers, as well as local residents, looking for something other than 28th Street's many chain eateries.
"Some people on the west side say we abandoned them to come out here where income levels are higher, but much of our business comes from the people who travel here," says Tom. "We're the kind of restaurant that attracts people who like fine food. We're probably the only restaurant in the area that really does everything from scratch—all our desserts, our salad dressings, the bread. The beef is stockyard beef out of Chicago."
That attention to detail is one of the reasons why Noto's was one of only two restaurants in greater Grand Rapids, and one of only a handful in the state, that were recognized for excellence by The Wine Spectator.
With his degree in Hospitality Management, Tom Noto knows that preparing good food is only one element of running a successful restaurant. In Noto's case, a large part of their success has been a remarkable continuity among their servers.
"Our head server, Krista, has been with us since we opened. Some of the servers started out as 16- and 17 year-old bread distributors," he says. "These kids are good enough and smart enough that they go away for three or four months, they pick right back up again, like Jason, our world traveler. He graduated from Michigan State in advertising, moved to Chicago to go into advertising and didn't like it. He came back here, worked for almost, a year, then spent New Year's Eve 2000 in Egypt at the pyramids. Now he wants to come back and earn enough money to go to Australia. I told him to send an e-mail; we'll have a spot ready for him."
The Next Course
Tom Noto studies the blueprints for the restaurant's expansion plans that are spread out on the now-cleared table. By the first half of 2004, Noto's is looking to almost double the square footage at its current location, where the family has operated since February 1997.
"There will be a three-level addition onto the back and the side, a wine cellar and cellar rooms, a circular staircase, a main-floor banquet room and pre-function lobby space where we can do appetizers and so on for up to 350 people," he explains. Right now we're planning a wedding reception where we're actually shutting the restaurant down for the evening."
Forget your chafing dishes of meatballs and white frosted cake. This reception will start with an antipasto of imported cheeses and olives followed by blue point oysters on the half shell, jumbo shrimp cocktail and individual single-bone lamb chops for appetizers. Well-wishers will have a choice of chicken Marsala or beef filet with vegetable and a potato—after a Mediterranean salad and farfalle pasta with tomato-cream sauce—all finished off with homemade Italian cookies and cannoli, fruit to dip in the chocolate fountain and a cappuccino bar.
"Banquets are a big part of our business. After our expansion, we'll have the room to do, say, a 600-person fundraiser," says Tony Noto, a former baseball player at Ferris. "With the three levels, we'll have about 20,000 additional square feet. We'll be able to do one large function and a smaller one at the same time.
"This is a big dream. We have no partners, nobody telling us what to do. Our only partner is the bank, and we're ahead of schedule with payments, which is a good thing."
Not bad for a restaurant that started as a place to grab a slice and play a quick game of Asteroids.