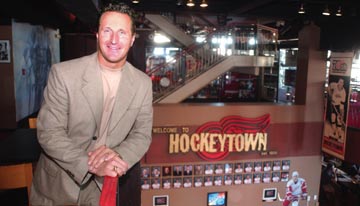 In addition to his duties at the Hockeytown Café, Hospitality Services alumnus Dan Linnen helps to serve up events at the Fox Theatre, Joe Louis Arena and Comerica Park in his role as senior director of Olympia Entertainment.
It was Saturday, May 1, 1993, and Dan Linnen (B'88) was working at Ripples, the bar he co-owned in Big Rapids.
The singer for the band he regularly booked was getting upset. Nikolai Borschevsky of the Toronto Maple Leafs had just scored his first career playoff goal at 2:35 of overtime to beat the Detroit Red Wings in the seventh and deciding game of the Stanley cup semi-finals.
"I said, 'Man I'm a fan too, but don't get so upset,'" Linnen says, remembering that fateful evening.
"But you don't understand," the singer said to Linnen. "My dad is going to be really upset."
"Why? Is he a big fan?" Linnen asked.
"No," the singer answered. "He owns the team."
Which is the beginning of how Linnen came to be senior director of Olympia Entertainment, a position that involves managing Hockeytown Café—a sports-themed bar and restaurant in downtown Detroit—as well as events at the Fox Theatre, Joe Louis Arena and Comerica Park.
ATANAS
That singer was Atanas Ilitch, son of Mike Ilitch—founder of Little Caesar's Pizza and owner of the Detroit Tigers and Red Wings, the Fox Theatre, Cobo Hall and many other properties in downtown Detroit.
"He had his own band called 'Atanas,' and he toured the country along with his day-time gig of being, at that time, president of Olympia Entertainments," Linnen remembers. "I don't know how he did it."
"He'd get out of work on Friday and zip up to Big Rapids. He'd have an advance crew set up all his gear and he'd show up and sing. When he'd pull up in his little silver Porsche I'd think, 'Geez, we're only paying this guy $500; something's got to be going on.'"
That contact with the younger Ilitch was the impetus for Linnen to make the move from Big Rapids to downtown Detroit, where he seems right at home at the reception desk of Hockeytown Café surrounded by such Red Wings' memorabilia as signed jerseys and publicity photos.
"We're doing a renovation of Joe Louis Arena and we're going to install those original lockers right here on the mezzanine level," Linnen says, giving his easy smile.
FROM CONCEPT TO REALITY
Comerica Park is across the street from Hockeytown Cafés' generous plate-glass front windows, with Ford Field just one block over. Fox Theatre is right next door. Downtown Detroit, after years of losing residents and financial and political power to the suburbs, seems to be on the rebound.
"When I first came down here to work, there was nothing across the street," Linnen remembers. "Hockeytown Café was formerly an Italian restaurant that was active maybe three or four nights a week when there were shows. Now we have the two new fields, and Fox Theatre was the number-one grossing theater in the country for the first six months of 2002."
Linnen gives great credit to Mike Ilitch for his vision in leading the business community's return to downtown Detroit. But even Ilitch was leery of Linnen's ideas for the direction the former Italian restaurant should take.
"The primary responsibility of my job is to develop restaurant and bar concepts," Linnen says. "When I first pitched the concept of Hockeytown Café, he was skeptical, but he let me work up the idea. We traveled around the country to look at sports-related restaurants like ESPN Zone and Champs. From there we hired an architect to do some conceptual designs and ultimately moved ahead. Three years later, everyone's happy we did."
IF THE SKATE FITS
Linnen's Ferris State degree in hospitality management and his background in running his own businesses make him a perfect candidate to manage a restaurant, but specifically Hockeytown Café?
"I played youth hockey while growing up in Big Rapids," Linnen says. "My father (Ferris State Professor of Mathematics John Linnen) started the Big Rapids Area Hockey Association. When I went to college, my father helped organize the first club team up there, which he also coached. We had a lot of fun with that. I'm still in touch with friends who played professionally both here and over in Europe."
Other aspects of the job have required Linnen to discover new skills altogether.
"I'm not a real estate person, but when it came time to go out and find tenants Mike Ilitch gave me that freedom—although people probably thought he was out of his mind," Linnen says. "We were able to get a couple of tenants in here when I began, which at the time was a pretty tricky thing. Back then we didn't have anyone fielding phone calls. Now we have someone just answering calls about our various properties. People are sensing the energy in downtown Detroit."