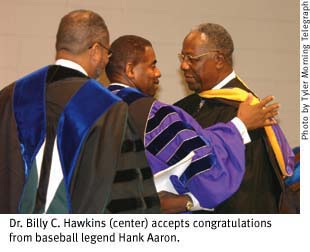 On Sept. 20, 2002, Dr. Billy C. Hawkins (E '76) was formally inaugurated as the 20th President of Texas College in Tyler, Texas.
Founded in 1894 and governed by the Christian Methodist Episcopal Church, Texas College is a liberal arts institution whose mission historically has been to provide "educational opportunities, academic services, and career choices for thousands of African American youth from throughout Texas, the nation, and internationally."
As an undergraduate, Hawkins was a four-year letter-winner as quarterback of the Bulldogs. After graduating from Ferris State, Hawkins held a number of administration positions with the University and other institutions including being provost and vice president of Academic Affairs at Mississippi Valley State University.
The Tyler Morning Telegraph quoted Hawkins outlining an educational philosophy that could apply equally to his alma mater— "As society becomes more complex, we must be ready to answer with the right degree programs and training that will keep our students competitive."
There is no small amount of irony in Hawkins' successful career in higher education. As a child he was mislabeled as being a slow learner and placed in special education classes from the third through the 10th grades. Today he is recognized for his expertise and insights into the education of young people.
Among the well-wishers and dignitaries from across the country in attendance at Hawkins' inauguration was U.S. Rep. Ralph Hall and baseball legend Henry "Hank" Aaron.