PTM Grad Puts Career on Display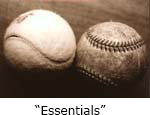 Ed Tseng (B'97) would like to be the next Charles Conlon—whose baseball photographs from 1904-1942 are widely considered among the finest athletic photos ever taken.
Tseng has had the chance to photograph such star players as David Cone and Derek Jeter at Yankee Stadium. On the other hand, his experience as a certified tennis professional at the Princeton (N.J.) Racquet Club and his Professional Tennis Management degree yield photographs that capture the action and emotion of world-class tennis. Having been on the court with Martina Navratalova hasn't hurt, either.
And if there can be a third hand, he wouldn't mind if the New Jersey-based band he's photographer for, The Alice Project, went on to be as big as Springsteen.
Tseng finds it hard to choose favorites. Baseball or tennis? Still-lifes or action shots? It's a tough call.
| | | |
| --- | --- | --- |
| "Out in Front" | "Comeback Kid" | "Derek Jeter" |
| "Base Hit" | "Untitled" | "Anna Kournikova" |