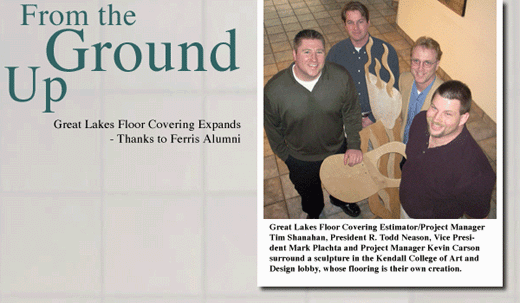 First-time visitors to the Ferris Library for Information, Technology and Education might be drawn to the building's huge skylight, its banks of computers or the retro, art-deco signage. But hundreds of students don't trample the skylight, the computers or the signs—although that happens to the floor every day.
Four Ferris alumni are responsible for making sure that FLITE's carpeting is up to the challenge.
Based in Grand Rapids, Great Lakes Floor Covering is co-owned by company President R. Todd Neason (AS'85) and Vice President Mark A. Plachta (T'72). Neason founded the company in 1987. Since Plachta joined GLFC in 1995, growth has required the company to hire additional project managers: Kevin Carson (AS'88) in 1997, and Tim Shanahan (T'99) in 2000.
Neason is quick to say that the hiring of Ferris grads is by design, not chance. "That started in '95 when Mark came on board, which in turn led us to pursue more people."
Shanahan thinks smaller class sizes at Ferris give grads an edge. "I have buddies from a Big 10 school telling me about classes with 300 students," he says. "To me, it would be hard to learn everything you need in such a large class."
The technology evident at FLITE is transforming even something as basic as flooring. "There are a lot more 'green' products and products that we now get from all over the world,"Plachta says.
In addition to FLITE, other Ferris-related jobs GLFC has worked on include the Katke Club House and the Dow Center for Art, Design and Technology.
Their work for the Community Media Center in Grand Rapids led to national attention from Interior Design magazine. The custom flooring was conceptualized by artist John McQueen using "dark saturated plum, deep Botticelli red and intense midnight blue."
Like craftsmen everywhere who are attentive to their trade, over dinner at the Bullshead in Grand Rapids they check out the restaurant's classic wood and tile floor, which they say is really pretty good.
They should know. They put it in.