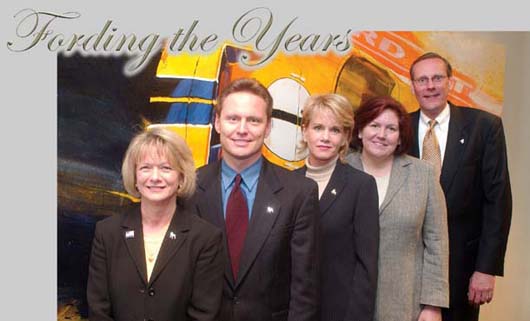 Alumni Build a Community Within Ford Motor Company
At the Convention and Visitors Center in the heart of historic Greenfield Village, five high-ranking Ford Motor Company executives are huddled in conversation as the room buzzes in anticipation of what those in the know privately report will be a new "call to action."
The five collaborators are
Mike Savickas (B'75), e-commerce training manager—Business Development Group
Beth Peacock (CJ'78), labor relations manager—Vehicle Operations Division
Shelly Patterson, (B'82), manager— Information Technology Division
Barb Bechard (B'72), financial accounting manager—Finance Division; and
Paul Szatkowski (B'84), marketing programs manager—Trustmark Marketing Programs.


Savickas approaches the podium. Facing more than 100 Ford employees from a wide range of departments, he makes the long-awaited announcement.
"The reason why you're here this evening," he says as the room falls silent, "is to reconnect to Ferris State University."
The Ford-Ferris Alumni Association has just officially been launched.
"'Coming together is a beginning, staying together is progress, and working together is success,'" says keynote speaker Matt Demars, vehicle program director, Vehicle Operations Division, quoting company founder Henry Ford. "His statement is the foundation of the importance of the Ferris and Ford Motor Company relationship in providing opportunities for graduates through the alumni network."
Ironically, University founder Woodbridge Ferris never learned how to drive.
A Better Idea
Judging from the response, an alumni organization is definitely in the category of one of Ford's "better ideas." Savickas, who in addition to being a training manager also is president of the new group, points out that even more than the 113 Ferris alumni who RSVP'd to be at tonight's inaugural meeting wanted to attend.
"We've had replies from people as far away as Florida who work for Ford and say they'd love to be here, but can't," he says.
For executives used to looking forward to the next project or product launch, reconnecting with classmates and the University has been a rare opportunity to enjoy the landscape in the rear view.
For Peacock, the association's vice president, looking into the past has meant seeing how her time at Ferris was the genesis for interests she has to this day. The 1976 homecoming queen first began running while pursuing a degree in Criminal Justice.
"One of my fondest memories is when I started running down by the river. I loved that quiet morning time on campus," she recalls. Peacock ran the Detroit Marathon in October of 2001. "People ask me why I run, and it's just sort of in my DNA now."
Beyond good memories, though, is the paradigm of alumni, industry and the University united in a common purpose.
"Not only will this organization provide an avenue for alumni interested in sharing their expertise with students and faculty on campus," says Ferris State Alumni Director Jeremy Mishler, "But it serves as a new development model for other alumni organizations. We hope that other large employers or industry clusters of Ferris alumni will establish similar groups to serve their employees and advance higher education."
Next Year's Model
After the formal addresses and general catching-up, the talk is less of nostalgia than of what the association plans to accomplish.
"Of course, I'm looking forward to more social events, but it would be great if we could do some summer internships and use the talent coming out of the University," says Board Secretary Patterson. "There are always cost constraints, but if there are creative ways we could use internships that would be useful for graduates, Ford would benefit as well."
Board Treasurer Bechard agrees. "I think everyone's interested in seeing Ferris expand its horizons with Ford." All five board members talk about having Ferris alumni visit campus to talk to students about career prospects at Ford. That kind of networking is one of the important elements of future Ford-Ferris ties.
This mutually beneficial relationship between Ford and Ferris will in part include the continued growth and advancement of the two-year Automotive Student Service Educational Training (ASSET) program, which develops service technicians for Ford and Lincoln-Mercury dealerships.
"With cars carrying up to 16 micro-computers, technicians are no longer stereotypical grease monkeys," says Ferris State graduate and Ford Training Specialist Shawn Alexander. "We can't just take people off the street and make them a technician," he explains. "Ferris is known as a leader in developing new technicians." That training means that approximately 10 percent of the staff of Technical Services Operations' Hotline, which supports Ford dealerships, are Ferris State alumni. Additionally, three of the five supervisors on the Hotline are Ferris grads.
"What brings us all together here is a sense of pride about Ferris—the good memories of past," says Szatkowski. Tomorrow, he will go back to the concerns of global corporate marketing that includes the Ford, Lincoln-Mercury, Volvo, Jaguar and Land Rover brands, and developing safe driver materials for a teen driving program. But tonight he's just feeling "geeked" about this initial gathering of Ferris alumni.
"One of the most valuable things I remember from Ferris was when a local businessman came to speak to one of my classes," he says. "I'd like to communicate some of the ups and downs that I've experienced."
The meeting is breaking up and people are heading out across the massive lobby of the convention center, where just yesterday eye-catching concept cars were displayed on what seems like acres of polished black marble flooring.
These newly acquainted Ford Dawgs have seen the future, and it is them.