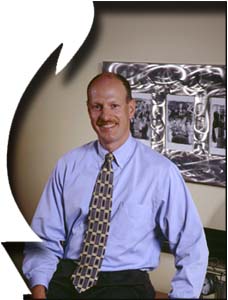 Who better than a loyal Ferris alumnus to serve as strategic-marketing consultants to the University? Mike McCarthy (B'79) and his team use skills they learned at Ferris to enhance their alma mater's image.
Downtown Grand Rapids is suffering from growing pains, and commuters' tempers are short. Lines of cars must wait for earth-movers to lumber across the street before drivers can inch their way around buildings in varying stages of construction. Dozens of yellow and orange signs direct traffic through mazes of detours over torn-up roads. The place is a mess.
In the midst of the swirling dust and road rage stands the brown brick building which houses Davison Dietsch McCarthy (DDM), Ferris State University's marketing agency of record. Mike McCarthy (B'79) looks out on the scene below with approval. The view includes U.S. 131's recently completed S-Curve, a hotly debated project that finished ahead of schedule. DDM handled all the advertising for the year-long project.
McCarthy's company is a bit out of the norm as public-relations firms go. To begin with, they don't use that descriptor, preferring "strategic marketing and communications company." McCarthy explains, "Too many marketing firms sell what they like to do, not what the client needs done. At DDM, the focus is on their needs, not ours. Before we begin tactical planning, we research and analyze the problem at hand. We then use that information to identify the most cost-effective strategies to achieve the needed results. At that point, we turn our attention to tactical solutions. By then, our design team is so involved, creative concepts come naturally."
That approach has helped DDM quadruple in size since Mark Davison and McCarthy started the business eight years ago. In 1995, they merged with Dietsch & Associates, gaining a new name and a second office in Chicago. Davison passed away unexpectedly three years later. His name will remain on the business he co-founded.

Team Leadership
McCarthy served as DDM's Chief Executive Officer for 2000. The company has a revolving officer system of shared leadership. "It's sometimes done in the legal system, and it results in a real sense of team. Each executive officer has the opportunity to impact the company's long-term growth. We decide each December who will serve in each position."
As an employer, he doesn't believe in micro-management, knowing that the creative minds on his team require a certain amount of breathing room to be most effective. "We have a few people who telecommute at least a few days a week. It saves drive time and expense, and they come in when they're needed for meetings and so forth.
"You can reach a level where you never stop working. My older brother, Bob, gave me some good advice when he said, 'You need to schedule your life in such a way as to not miss your life.' I've tried to do that."
Fresh Perspective
Handling the marketing account for his alma mater puts McCarthy's abilities to the test. "I'm in an unusual position. While I know and appreciate the institution well and understand its educational benefits, I need to be able to step back and take an outside perspective in order to provide an objective viewpoint."
The new set of recruiting materials DDM prepared for the University illustrates McCarthy's dual role. "Strategically, Ferris decided to focus a bit more on liberal-arts programs and reorganize marketing materials by career focus rather than simply program titles - a sound strategy. At the same time, we still need to reinforce the practical nature of a Ferris education. That's a key element that sets Ferris State University apart from other institutions."
Another element is the faculty. One of McCarthy's professors, in particular, stands out in his memory. "Professor Keith Lucas was demanding and unwavering in his expectations, but he also was fair and took the time to explain why he set his expectations at that level. He knew he had to push me, and he did, and I'll always appreciate that.
"When I visit campus now, the energy and progress I feel is so apparent. Alumni who haven't been back in a while are missing a great opportunity. Even my roommates from college are surprised when I tell them about how Ferris has evolved over the past several years. Those who have visited have been very impressed at how revitalized the University has become."
Developing Talent
Another of DDM's team leaders is Chief Operations Officer Mark Blodger (B'82). He does the hiring, and, while he favors FSU graduates for his design team, he also holds them to a tough standard.
"I expect a lot more out of the Ferris grads, specifically those from the Visual Communication program," says Blodger. "I know how the program is set up and run, and how demanding the curriculum is. The training these alumni have had shows in their professionalism - they're billable the first day."
"DDM hires a lot of Ferris grads - we've had close to a dozen - because they're ready to work," says McCarthy. "What I most appreciate about my Ferris education is that it prepared me to hit the ground running. Within the first couple of weeks of my first job out of school, my boss asked me to head up the research project for a new product. He had that much confidence in my abilities.
"Some institutions pride themselves on a theory-based education, but that kind of background can sometimes hinder a new employee's actual implementation. When we bring Ferris people in, they contribute right away. Jennifer Hoard (B'96) is a good example - she came to us two or three years ago when she was starting her career as a designer. Our company's growth offered her some good opportunities, and she has risen to the challenge. She has evolved into one of our senior designers and now is the lead person on a number of projects for our largest account," he says.
The morning traffic rush is over. Construction workers from a nearby building project are breaking for lunch. The streets are calm; even the dust has settled. Grand Rapids' progress, like the careers at DDM, is coming along nicely.