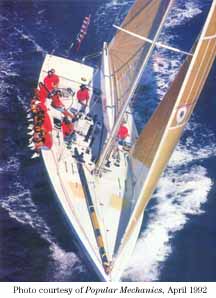 Pharmacy grad captains his own destiny
"I said, 'What should I call you-Your Highness?' We said, 'Call me Harry-anything else, and I think I've done something wrong.'" -Woodii Carr (P'70)
He has worked as a retail pharmacist and has authored I.V. protocols for hospitals. On the cusp of the national shift toward managed health care, he launched a successful business catering to the needs of hemophiliacs. He turned a love of fast cars into a book on the physics of driving and published it online. He has surfed Hawaii's North Shore and has stood beside royalty on the decks of racing ships the world over.
He is a 1970 Ferris State grad, and his voice still sparks with enthusiasm for his past and his future.
On the Move
Woodrow "Woodii" Carr arrived at Ferris as a state champion high-jumper from Battle Creek. He broke the Ferris high-jump record early in his career and left Big Rapids in a '69 Charger with a degree in Pharmacy. After graduation, Carr traded his Charger for a '71 Corvette and drove coast-to-coast six times, visiting each of the contiguous 48 states. He then moved to Hawaii, where he has lived since.
"Simply put, it's cold in Michigan, and it's not here," Carr says. "I even took up surfing-I used to surf the big waves, but I'm not in that kind of shape anymore."
He's more apt to ride the waves aboard sailing vessels now. Carr learned to sail at age 27, an unlikely benefit of a clinical pharmacy job at Queens Hospital in Honolulu.
"I had decided to leave my job at Queens, and my replacement decided to sail out from Seattle-20 days with his family on a 32-foot boat. I had to wait until he arrived, and he paid me back by teaching me to sail."
After Queens, he took a position with the Kaiser Foundation hospital, writing I.V. policy and procedures. The experience proved life-changing. In the late 1960s, the federal government changed the basis of the health-care system, putting many hospitals over budget. In response, Carr put his expertise with I.V.s to work in the home health-care arena and later launched a state-level campaign to develop and standardize in-home care for hemophiliacs. This caught the attention of a Wall Street firm, which purchased Carr's growing company.
The Company He Keeps
Carr was encouraged to pursue his business dreams by commercial real-estate developer Jim Kilroy, whose yacht, the Kailoa, was the jewel of the islands in the 1980s.
"That was the boat everyone wanted to be on, and he allowed me to be crew member. That's where I met Americas Cup champion Dennis Connor, Ted Turner, Prince Albert of Monaco, Juan Carlos of Spain."
Carr talks easily of the celebrities and royalty he's encountered in sailing circles-names like Doubleday and Onassis pepper the conversation, and Dennis Connor he calls "D.C." He recalls a time when world-class sailor Cecil Malley brought him to Sardinia, Italy, for the World Championships.
"I thought I'd just be along for the ride, and Cecil had me tailing halyards at the base of the mast next to Prince Harold-now King Harold-of Norway. I said, 'What should I call you if I need to get your attention-Your Highness?' He said, 'Call me Harry-anything else, and I think I've done something wrong.'"
So he's a surfer, a sailor, an entrepreneur. Is he still a pharmacist?
"Absolutely-the funny thing is, if I wasn't a pharmacist first, I wouldn't be any of these other things," he says. "But I'm a different kind of pharmacist."
The Driver's Seat
Different indeed. His most recent venture he found where the rubber meets the road-behind the wheel of his Ferrari. His taste for "hot cars" has never diminished, and whatever the vehicle, Carr has found himself always in love with driving and aggravated by the habits of other motorists. That passion spurred him to write The ABCs of Driving.
"Basically it's a physics book without the formulas-it teaches the reader about things like speed and braking distance from the car's perspective. My goal is to get it to be required reading for anyone seeking a driver's license."
The book has been downloadable online for more than a year, and copies have gone across the country and around the world. Now in the business of developing new publicly traded companies, Carr won't say much about his next venture-except that it will likely involve his knowledge of pharmacy and the expertise he's gained in the virtual world since publishing his book online.
In the meantime, his eyes are again on the horizon, looking for the next opportunity.