The Alumni Building was dedicated on Oct. 19, 1929. It was erected without a bank failure. But 10 days later the stock market crashed, and the nation was plunged into the Great Depression.
At that point the school had more promissory notes than dollars, and as contractors demanded their pay, Ferris Institute had to borrow money from the Union Bank of Grand Rapids, using notes as collateral.
The next 20 years were hard ones. Enrollments dwindled and building programs were shelved; sometimes the students were so few and the cost of heat so high that part of the Main Building had to be shut down.
Lack of funds forced the Crimson and Gold to suspend publication with the 1930 issue. The school's yearbook was reincarnated in the 1950-51 year as the Ferriscope.
But for the first 10 days starting with the dedication of the Alumni Building there was much joy at Ferris Institute. For the dedication, 13 members of the first class of the Industrial School were on hand for the cornerstone laying. Among them was Dr. Gaylor M. Brown of Muskegon, who was a member of Ferris' first class of 15. Brown provided much of the information needed to get the first alumni group together for the dedication, and after the fire of 1950 supplied the archives with some additional material about the first class.
Among other things the Alumni Building provided was a fine new gymnasium with dressing rooms and showers for both men and women students.
The early campus buildings included the Music Hall,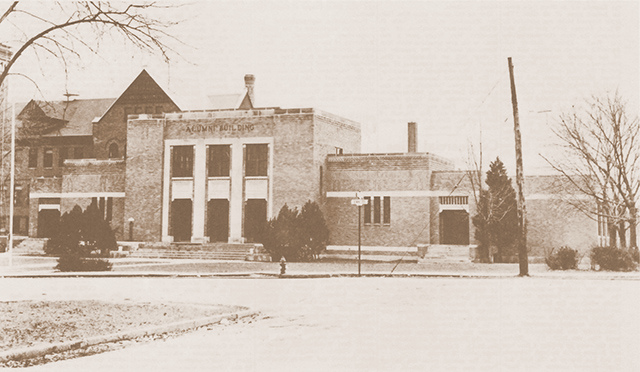 which had served in all kinds of functions including those of cafeteria and athletic dressing rooms. That building, however, was destroyed by fire on June 16, 1928. Its demise was one of the driving forces behind the development campaign.

For 20 years the alumni Building was the pride of the Ferris Institute campus. During some of the austere years, from 1929 through World War II, it was the only building which was being utilized for instruction because there were too few students.