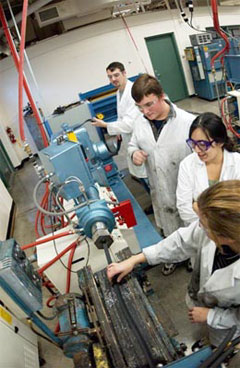 In-demand graduates of the program earn $49,000 - $65,000 to start.
Students sought after for paid summer internships
Scholarships paid by industry available
State-of-the art National Elastomer Center
Because of an urgent need for technically trained personnel in the rubber industry, Ferris' Rubber Engineering Technology program was started in 1998. Many companies compete for graduates as Ferris' rubber program is the only one in the United States.
The rubber industry, working with the State of Michigan, generated over $7 million to create the National Elastomer Center here at Ferris, with state-of-the-art laboratories and classrooms. Many companies donate equipment and materials, make on-campus presentations and sponsor field trips to their facilities.
The Bulldog Award assist some out-of-state students. If you are interested in more information (click here).