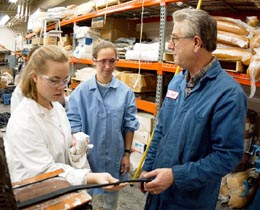 After completing this program, you will be immediately employable by the rubber industry. We expect 100% placement for the foreseeable future. B.S. graduates usually start in engineering positions such as process, product or project engineer, quality control engineer, or technical sales representative. The rubber industry is looking to graduates of Ferris' program to become their senior engineers and managers of the future.
Industry Facts, Figures and Stats
A Rubber Engineering Technology B.S. graduate can expect a beginning salary of approximately $49,000 to $65,000 per year. Experienced professionals in this industry make about $75,000 to $80,000 and higher-level positions can exceed $100,000 per year.