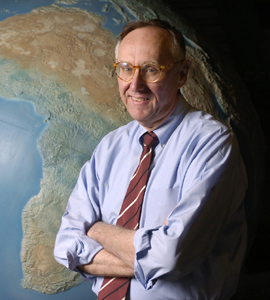 HONORARY DOCTORATE OF SCIENCE AND ENGINEERING
Jack Dangermond is a renowned pioneer in the field of automated mapping technology who used his expertise, commitment and foresight to perfect an invaluable software system for all professionals that rely on spatial analysis for decision support.
Dangermond combined an early interest in computers with studies in environmental science at California Polytechnic College, urban planning at the University of Minnesota and landscape architecture at Harvard University, to spark his interest in developing geographic information systems software. After founding the Environmental Systems Research Institute in 1969 in his hometown of Redlands, California, he later introduced ARC/INFO, a flagship GIS product that permits analysis using a commercial database with a topographical map structure.
Acknowledged as the technical and market leader in GIS software ESRI has an installed base of more than 7,000 ARC/INFO systems on workstations, minicomputers and mainframes, and more than 5,500 such systems on personal computers, worldwide. ARC/INFO users, such as professionals involved in land use planning, facilities management and vehicle routing, now number more than 35,000, and are represented on all continents. Dangermond's philosophy of emphasizing technical excellence rather than marketing strategy has led to constant improvement of his system by the addition of new tools and enrichment of the database, making the software expandable and flexible. Realizing the major effect that land surveyors can have on many related professions, he has also become an advocate of the use of SIS as a cross-cutting technology to completely integrate organizations and make computer technology the ultimate project manager.
Committed to sharing his knowledge with both colleagues and competitors, Dangermond has served on national advisory committees and boards, including NASA's Science and Technology Advisory Committee, and has delivered keynote addresses at meetings and conferences around the globe. Hundreds of his papers dealing with GIS technology have been published in journals and conference reports in such diverse fields as computer science, photogrammetry, planning, environmental science and cartography.
Dangermond has shown a genuine interest in the education of young people as indicated by his dedication to make GIS and spatial analysis tools an integral part of elementary education, and by his participation in the educational enterprise at all levels. His personal and corporate support played a significant role in gaining national accreditation for Ferris State University's surveying engineering program and he has made exemplary equipment donations to the program.
Dangermond's fellow industry professionals have recognized his leadership qualities by granting him such honors as the Urban and Regional Information Systems Association's Horwood Award for outstanding contributions to the information systems field and honorary membership in the Association of American Geographers.
In recognition of his accomplishments as an innovator in his profession, and for his untiring efforts to advance his technology, the Ferris State University Board of Control is pleased to confer upon Jack Dangermond the honorary degree of doctor of science and engineering, with all the rights and privileges appertaining thereto.