Dear Ferris State University Community,
The values instilled by our founders, Woodbridge and Helen Ferris, remain just as strong today as they were 134 years ago.
While much has changed since Woodbridge and Helen welcomed their first class of 15 students, the bedrock on which we were founded remains the same – steadfast dedication to our students, the opportunity of student success with our unique educational programs, and a shared understanding that we are strongest and most effective when working together on a common mission, vision and focus.
As we developed our University's 2019-2024 strategic plan, I was reminded just how fortunate we are to have an extraordinary faculty and staff who came together to move our University forward, and while doing so, making a great University even greater.
Leading this critically important effort were Management Professor Spence Tower and Vice President for Diversity and Inclusion David Pilgrim. Working with a team of over 60 faculty and staff, students and community members, they guided the strategic planning process. I am very grateful for their leadership. For everyone who served on the steering committee, subcommittees and workgroups, thank you for sharing your time and energies to map our future as a university.
I thank every member of our University community who participated in open forums, focus groups, and other opportunities for input and review of this planning process. Thank you for your engagement, initiative and contributions. Please visit this website often for updates, to share your input and view information.
Together we will create a bright future full of promise for our University and for the students whose lives we change through our education and support. Thank you for all you do for Ferris State University.
Sincerely,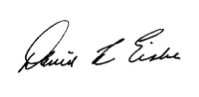 David L. Eisler
President