MyScholarships
The College of Pharmacy awarded over $1.1 Million in scholarships for the 2023-24 academic year. Our scholarships are awarded based on a combination of several factors which include financial need, academic achievement, community involvement, and leadership skills. The College of Pharmacy Scholarship Committee selects scholarship recipients and all decisions are final.
You can explore College of Pharmacy Scholarships at the MyScholarships portal. Search using the keyword "Pharmacy" and you will find all of our scholarships and their criteria.
Scholarship Applications begin on February 1, 2024 with a March 24, 2024 deadline to submit.
Please note that scholarships only appear on MyScholarships during the application period.
Incoming first-year pharmacy students (P1's) are automatically awarded scholarships, so no application process is required.
All College of Pharmacy Scholarships require full-time student classification. FAFSA submissions are required for eligibility for any need-based scholarships. As such, U.S. citizenship or permanent resident status as a non-U.S. citizen is required for such awards.
Scholarship awards account for financial need, academic performance, professional contributions, and additional criteria specified by the scholarship donor.
Students are eligible to apply and/or receive scholarship awards during each year of the 4-year professional program.
External Scholarships
Occasionally there are outside organizational scholarships available. These opportunities are highlighted for current College of Pharmacy students internally and require separate application with the company.
Award Process
Student completes application
Scholarship committee reviews applications (February-May)
Recipients are notified of award during the summer months.
Scholarships are awarded once a year. Actual disbursements are divided equally between fall and spring semesters.
If you have questions about College of Pharmacy scholarships, contact the Dean's Office at (231) 591-2254.
Scholarship Reception
Each year the College of Pharmacy recognizes all pharmacy students who receive a scholarship award and the many generous donors that make these opportunities possible.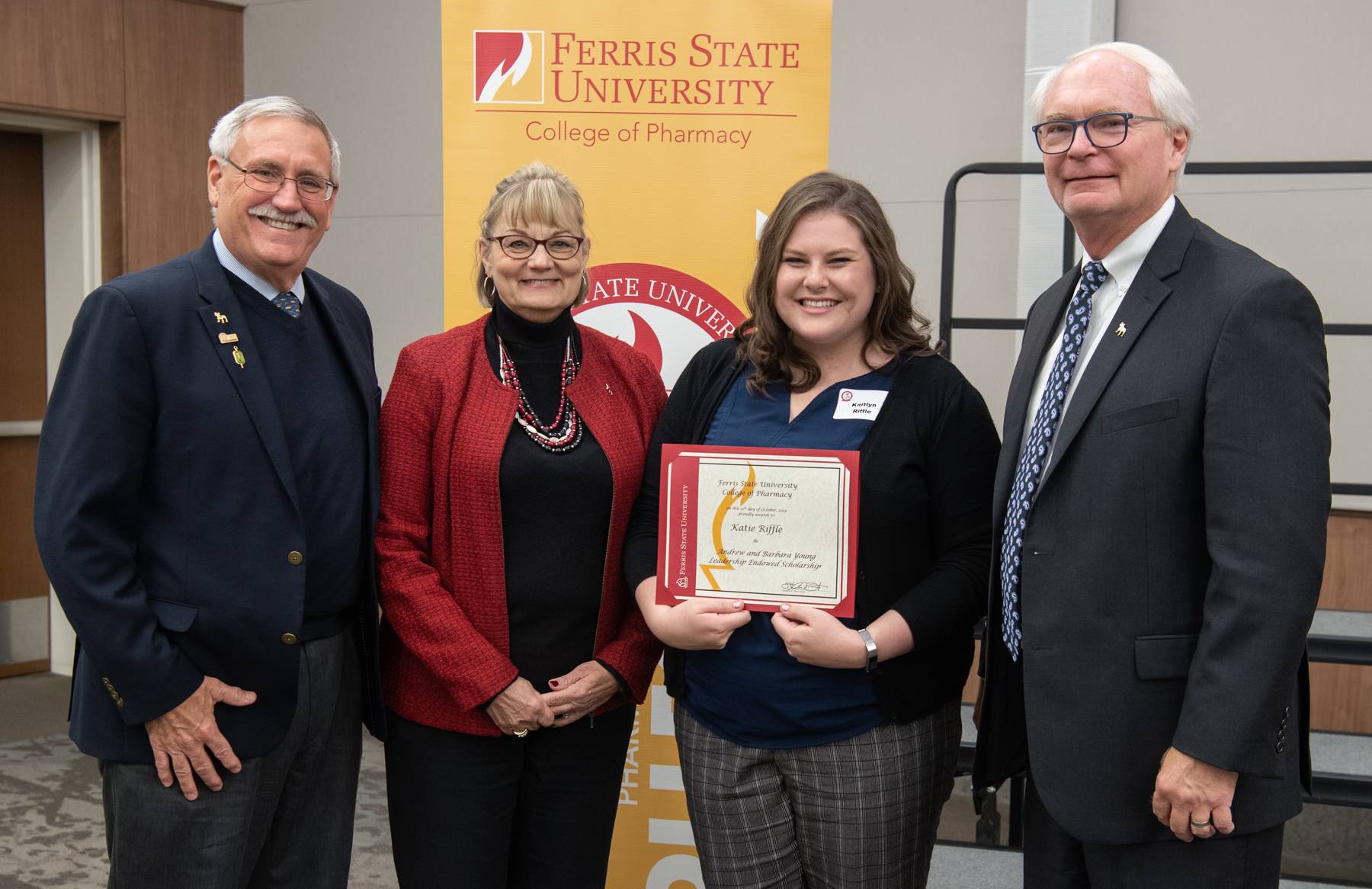 Stay tuned for this year's reception date
Giving to the College of Pharmacy
We would like to thank the donors who fund these scholarships with their generous gifts to the College of Pharmacy. These funds provide invaluable support for graduate students every year.
If you are interested in providing a scholarship opportunity in your name, please explore our Giving page or make a donation now.