Faculty and students from the FSU College of Pharmacy attended the American College of Clinical Pharmacy (ACCP) Annual Meeting in New York City on Oct. 26-29 and presented posters on their research
[Published November 19, 2019]

ACCP is a professional organization of over 15,000 clinical pharmacy practitioners, scientists, educators, administrators, students, residents, and fellows from more than 60 countries committed to excellence in clinical pharmacy practice, research and education.
"Our student projects evaluated antimicrobial (antibiotic) use in community settings and ways to improve education around proper use", noted faculty advisor Dr. Michael Klepser, PharmD, FCCP.
Partner institutions on the student research projects included Western Michigan University's Homer Stryker M.D. School of Medicine, WMU School of Interdisciplinary Health, and Bronson Health Group.
Jessica Goldsworthy (P4, Marquette) presented her poster on the "Impact of prescriber education and report cards on outpatient antibiotic prescribing for urinary tract infections at a Federally Qualified Health Center (FQHC)".
Paige Weaver (P4, Davison) presented a poster on the "Impact of pharmacist-led education and prescriber report cards as outpatient antimicrobial stewardship initiatives in a community health system".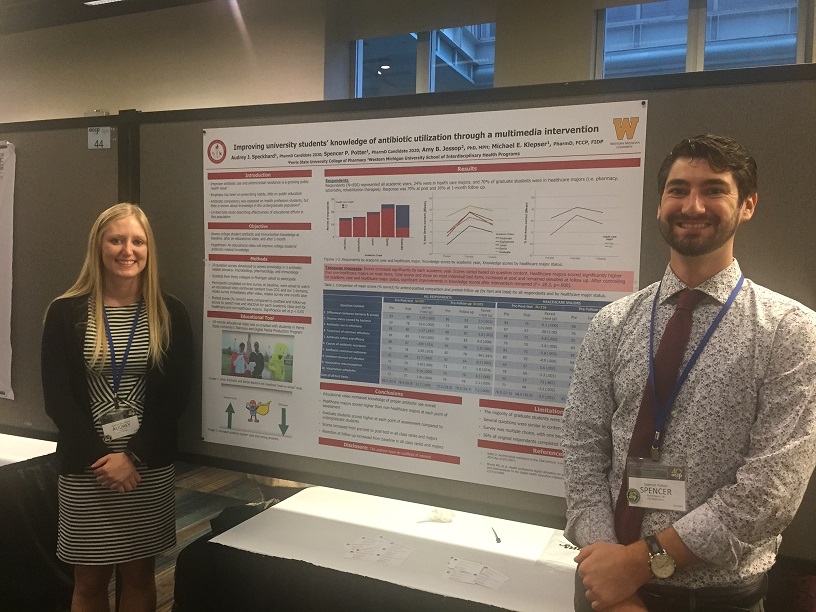 Audrey Spekhard and Spencer Potter
Audrey Spekhard (P4, Freeland) and Spencer Potter (P4, Traverse City), co-presented a poster on "Improving university students' knowledge of antibiotic utilization through a multimedia intervention". This project involved creation of a brief educational video about antibiotics, bacteria and viruses, as well as testing its learning effectiveness. The video was made in collaboration with students in the FSU School of Digital Media (Danielle Will and David Wee), and can be seen here: (https://www.youtube.com/watch?v=rLAdHdY4mV8&t=10s).
"We enjoyed having FSU faculty stop by our posters and giving us support", said Potter. "We had a great time presenting and it was a great experience to be at ACCP!"
Other FSU faculty presentations at the ACCP Annual meeting included:
Thomas Dowling, PharmD, PhD, FCCP, and colleagues from the Cleveland Clinic Akron (Michaelia Cucci, PharmD) presented a poster describing the design of a study to assess the performance of kidney function equations using different body weights in ICU trauma patients with augmented renal clearance. The project is being developed as part of ACCP's 2019 Mentored Research Investigator Training (MeRIT) Program.
Renee Koski, PharmD, CACP, FMCP, and colleagues from Midwestern University (Kelly Limpicki, PharmD) and Seattle Washington (Kyann Wisse, PharmD), presented a poster describing the history of the ACCP Ambulatory Care Practice and Research Network.
Ferris State Pharmacy Faculty and Students Present at 2019 AACP Annual Meeting
The FSU College of Pharmacy was well represented at the 2019 Annual Meeting of the American Association of Colleges of Pharmacy (AACP), held in Chicago on July 13-17, 2019. AACP is the premier academic pharmacy organization, aimed at advancing and enhancing the quality of education and training in its 142 member institutions representing more than 6,400 faculty and 62,500 students enrolled in professional (PharmD) programs. This year, there were 18 College of Pharmacy faculty, staff, and administration who attended the meeting, delivering three podium/panel presentations, five poster presentations, and a national award recipient!
Faculty presentations included:
Dr. Jennifer Lamberts - Gave a presentation on "Practicing Understanding: Strategies to Orient Non-Practice Faculty to the Pharmacy Profession and Professional Education". Dr. Lamberts shared her unique experience in establishing strategies to orient non-practice faculty to the pharmacy profession and professional education. Together with other presenters, they also summarized the current literature surrounding best practices in cross-disciplinary understanding. She also presented a poster on this topic.
Dr. Lisa Meny - Presented "Charting Your Own Course: Finding Yourself and Finding Your Path in Academia". Dr. Meny, with other speakers on the panel, shared the tools for promoting self-authorship, personal authenticity, self-advocacy, and strategies for success with the audience.
Dr. Lisa Meny and Mandy Seiferlein – participated a symposium on "Data Overload? Three Approaches to Implementing Data-Driven Changes Using the AACP Curriculum Quality Survey". Their presentations focused on innovative approaches, covering the areas of sampling, response rates, benchmarks, communicating results and creating action plans on how to optimize the data gathered from AACP Curriculum Quality Surveys (student, faculty, alumni, preceptor) for programmatic assessment and accreditation
National award recognition:
Dr. Lisa Meny and colleagues received an award for Excellence in Experiential Education for her work on intentional interprofessional education.
Poster presentations by College of Pharmacy faculty included:
Dr. David Bright - "Re-inventing the Wheel: Content Development Across Disciplines Within an Integrated Pharmacotherapy Course" (School Poster - Ferris State University)
Dr. Jennifer Lamberts - "Bridging the Great Divide: Survey of Activities That Orient Non-Pharmacist Faculty to the Pharmacy Profession"
Dr. Lisa Meny and Mandy Seiferlein - "Faculty Perceptions of a Town Hall Model for Engagement in Data-Driven Decision Making"
Dr. Lisa Salvati and Sophie Dietrich (COP 2019 graduate) - "Transitions of Care Education in Doctor of Pharmacy Curricula in the United States"
Dr. Tracey L. Mersfelder - "Factors Influencing the Involvement of Doctor of Pharmacy Students in Research/Scholarship Projects"
FSU College of Pharmacy represented at nationally recognized mentored research program hosted by University of Kentucky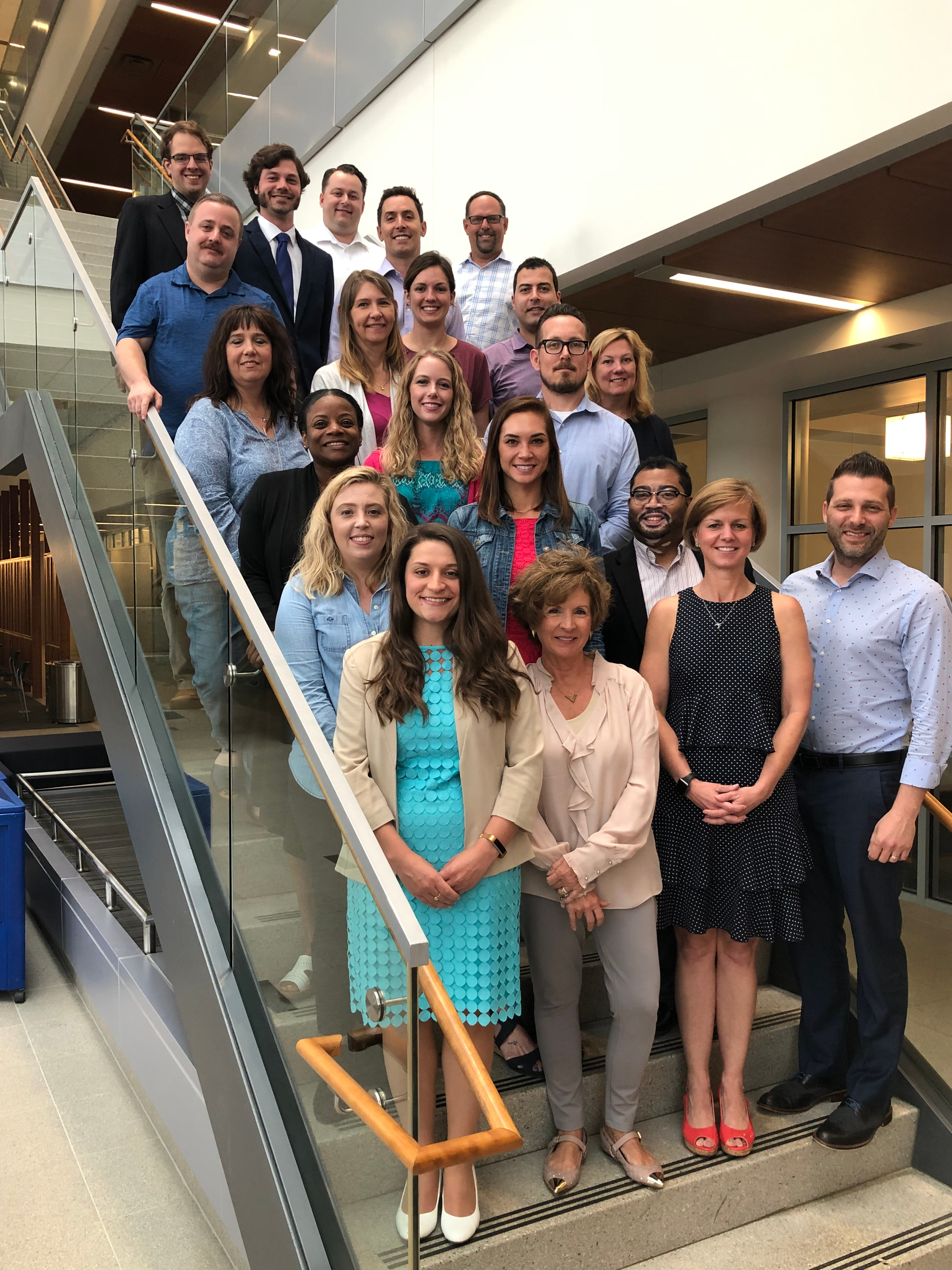 FIT/MeRIT Class of 2019. Front Row: Hetrick, Hatton Kolpek, Rodgers, Leonard
Second Row: Cucci, Johnson, Allen
Third Row: Moye-Dickerson, Manis, Jones, Kolesar
Fourth Row: Rhoney, Ellingrod, Sikora-Newsome, Chahine
Fifth Row: Crona, Johnson, Dowling
Back Row: Hughes, Felbinger, Daley
Not Pictured: Zillich
Fourteen investigator-participants and eight mentors teamed up for 5 days of intensive investigator development at the University of Kentucky College of Pharmacy, June 17–21.
This marked the fifth offering of the ACCP Foundation Mentored Research Investigator Training (MeRIT) Program. The 5-day primer session kicked off this individualized, 2-year longitudinal program, which is designed to mentor participants throughout the research process – from research idea and study design to institutional review board and funding application to data collection, results presentation, and manuscript submission.
FSU College of Pharmacy Faculty and Student Pharmacists Present Research at 2019 National Conferences
Students and faculty of FSU College of Pharmacy have been visible in several recent national meetings. Nearly 30 members of the College attended the 2019 American Pharmacists Association (APhA) annual meeting in Seattle, Washington and the 2019 Academy of Managed Care Pharmacy (AMCP) annual meeting in San Diego, CA. Faculty and students presented research projects conducted with partners from Spartan Nash, Meijer, and Western Michigan University's Homer Stryker School of Medicine.
2020
Axford K. Warfarin/CYP2C2, VKORC1, CYP4F2 Case. In: Pharmacogenomics: Foundations, Competencies, and the Pharmacists' Patient Care Process. APhA 2020 (Jan). doi: 10.21019/9781582123127.ch9
2019
Vanlangen K, Meny L, Bright D, Seiferlein M. Faculty Perceptions of Enrustable Professional Activities as a Framework for APPE Readiness. Am J Pharm Educ 2019 (Dec 12); doi: 10.5688/ajpe7501
Sharma K, Neshat N, Sharma S, Giri N, Srivastava A, Almalki F, Saifullah K, Alam MM, Shaquiquzzaman M, Akhter M. Identification of novel selective Mtb-DHFR inhibitors as antitubercular agents through structure-based computational techniques. Arch Pharm (Weinheim). 2019 Dec 23:e1900287. doi: 10.1002/ardp.201900287.
Sohn M, Brinkman R, Wellman GS. Coprescription of opioid and naloxone in office-based practice and emergency department settings in the United States. Public Health. 2019 Dec 18;180:82-84. doi: 10.1016/j.puhe.2019.11.014
Eid D, Osborne J, Borowicz B. Moving the Needle: A 50-State and District of Columbia Landscape Review of Laws Regarding Pharmacy Technician Vaccine Administration. Pharmacy (Basel). 2019 Dec 10;7(4). pii: E168. doi: 10.3390/pharmacy7040168.
Pontefract B, Nevers M, Fleming-Dutra KE, Hersh A, Samore M, Madaras-Kelly K. Diagnosis and Antibiotic Management of Otitis Media and Otitis Externa in United States Veterans. Open Forum Infect Dis. 2019 Oct 4;6(11):ofz432. doi: 10.1093/ofid/ofz432. eCollection 2019 Nov.
Mishra V, Yadav N, Saraogi GK, Tambuwala MM, Giri N. Dendrimer Based Nanoarchitectures in Diabetes Management: An Overview. Curr Pharm Des. 2019;25(23):2569-2583.
VanLangen KM, Dumkow LE, Axford KL, Havlichek DH, Baker JJ, Drobish IC, Jameson AP. Evaluation of a multifaceted approach to antimicrobial stewardship education methods for medical residents. Infect Control Hosp Epidemiol. 2019 Sep 2:1-6. doi: 10.1017/ice.2019.253.
Higbea RJ, Elder J, VanderMolen J, Cleghorn SM, Brew R, Branch K. Interprofessional service-learning definition. J Interprof Care. 2019 Sep 13:1-4. doi: 10.1080/13561820.2019.1650729.
Mersfelder TL, Jacob C, Lam JK, Kavanaugh KJ, Molnar CM. Evaluation of a Pharmacist-Driven Protocol to Reduce Inappropriate Use of Acid-Suppressive Medications in the Non-ICU Setting. P T. 2019 (Aug); 44(8):471-473.
Sahr M. Hepatitis B Virus: Who is at risk, and what can we do? Pharmacy Times. August 2019. (supplement - Immunization Guide for Pharmacists).
Reidenbach M, Bade L, Bright D, DiPietro Mager N, Ellis A. Preconception care needs among female patients of childbearing age in an urban community pharmacy setting. J Am Pharm Assoc. 2019 Jul - Aug;59(4S):S52-S56.
Hills RD Jr, Pontefract BA, Mishcon HR, Black CA, Sutton SC, Theberge CR. Gut Microbiome: Profound Implications for Diet and Disease. Nutrients. 2019 Jul 16;11(7). pii: E1613.
Stockton WM, Nguyen T, Zhang L, Dowling TC. Etoposide and etoposide phosphate hypersensitivity in children: Incidence, risk factors, and prevention strategies. J Oncol Pharm Pract. 2019 Jul 18. doi.org/10.1177/1078155219858390.
Sexton SM, Armstrong A, Gatton O, Rhodes LA, Marciniak MW. A standardized team-based approach for identifying naloxone-eligible patients in a grocery store pharmacy. J Am Pharm Assoc (2003). 2019 Jun 20. pii: S1544-3191(19)30144-X. doi: 10.1016/j.japh.2019.03.015.
Sohn M, Talbert JC, Huang Z, Lofwall MR, Freeman PR. Association of Naloxone Coprescription Laws With Naloxone Prescription Dispensing in the United States. JAMA Netw Open. 2019 Jun 5;2(6):e196215. doi: 10.1001/jamanetworkopen.2019.6215.
Mersfelder TL, Shiltz DL. β-Blockers and the Rate of Chronic Obstructive Pulmonary Disease Exacerbations. Ann Pharmacother. 2019 Jul 4:1060028019862322. doi: 10.1177/1060028019862322.
Hilden MP, Bright DR, Kisor DF, Christensen H. Pharmacogenomics: A Practical Primer for Senior Care Pharmacists. Sr Care Pharm. 2019 Jun 1;34(6):363-369. doi: 10.4140/TCP.n.2019.363.
Saadeh C, Bright D, Rustem D. Precision Medicine in Oncology Pharmacy Practice. Acta Med Acad. 2019;48(1):90-104. doi: 10.5644/ama2006-124.246.
Namasivayam V, Vanangamudi M, Kramer VG, Kurup S, Zhan P, Liu X, Kongsted J, Byrareddy SN. The Journey of HIV-1 Non-Nucleoside Reverse Transcriptase Inhibitors (NNRTIs) from Lab to Clinic. J Med Chem. 2019 May 23;62(10):4851-4883. doi: 10.1021/acs.jmedchem.8b00843.
Meny LM, de Voest MC, Salvati LA. Assessment of student pharmacist learning within an interprofessional simulation: A comparison of small group vs. large group debriefing. Curr Pharm Teach Learn. 2019 May;11(5):533-537. doi: 10.1016/j.cptl.2019.02.007.
Schmidt KJ, Sager B, Zachariah J, Raad BF, James EG, Fletcher JJ. Cohort analysis of desmopressin effect on hematoma expansion in patients with spontaneous intracerebral hemorrhage and documented pre-ictus antiplatelet use. J Clin Neurosci. 2019 May 31. pii: S0967-5868(18)31615-1. doi: 10.1016/j.jocn.2019.05.032.
Anksorus HN, Bradley CL, Porter AL, VanLangen KM, Donohoe KL. Establishing a successful teaching assistant program in pharmacy skills laboratory courses. Curr Pharm Teach Learn. 2019 Aug;11(8):760-766. doi: 10.1016/j.cptl.2019.04.003.
Koski RR, Grzegorczyk KM. Comparison of Monoclonal Antibodies for Treatment of Uncontrolled Eosinophilic Asthma. J Pharm Pract. 2019 May 2:897190019840597. doi: 10.1177/0897190019840597.
Vinluan CM, Verdell A, Ibarra C, Giri N, Thai D. Interprofessional Perceptions and Attitudes Among Pharmacy and Family Nurse Practitioner Students. J Pharm Pract. 2019 Apr 28:897190019840100. doi: 10.1177/0897190019840100.
Nybo SE, Lamberts JT. Integrated use of LC/MS/MS and LC/Q-TOF/MS targeted metabolomics with automated label-free microscopy for quantification of purine metabolites in cultured mammalian cells. Purinergic Signal. 2019 Mar;15(1):17-25. doi: 10.1007/s11302-018-9643-2.
Kurup S, Sakharkar P. Three-Dimensional Visualization of Kinase Inhibitors as Therapeutically Relevant Examples To Reinforce Types of Enzyme Inhibitors. Journal of Chemical Education 2019; 96(2): 296-303.
2018
Yang BK, Storr CL, Trinkoff AM, Sohn M, Idzik SK, McKinnon M. National opioid prescribing trends in emergency departments by provider type: 2005-2015. Am J Emerg Med. 2018 Oct 22. pii: S0735-6757(18)30855-6. doi: 10.1016/j.ajem.2018.10.041.
Stein GE, Smith CL, Scharmen A, Kidd JM, Cooper C, Kuti J, Mitra S, Nicolau DP, Havlichek DH. Pharmacokinetic and Pharmacodynamic Analysis of Ceftazidime/Avibactam in Critically Ill Patients. Surg Infect (Larchmt). 2019 Jan;20(1):55-61. doi: 10.1089/sur.2018.141. Epub 2018 Oct 23.
Quesnelle KM, Bright DR, Salvati LA. Interprofessional education through a telehealth team based learning exercise focused on pharmacogenomics. Curr Pharm Teach Learn. 2018 Aug;10(8):1062-1069. doi: 10.1016/j.cptl.2018.05.015.
Klepser ME, Adams AJ. Pharmacy-based management of influenza: lessons learned from research. Int J Pharm Pract. 2018 Dec;26(6):573-578. doi: 10.1111/ijpp.12488.
Saadeh CE, Rustem DR. Medical Marijuana Use in a Community Cancer Center. J Oncol Pract. 2018 Sep;14(9):e566-e578. doi: 10.1200/JOP.18.00057.
VanLangen K, Wellman G. Trends in electronic health record usage among US colleges of pharmacy. Curr Pharm Teach Learn. 2018 May;10(5):566-570. doi: 10.1016/j.cptl.2018.01.010
Dumkow LE, Axford KL, Suda KJ, Draper HM, Brandt KL. Impact of a stewardship-focused culture follow-up initiative on the treatment of pharyngitis in the emergency department and urgent care settings. Diagn Microbiol Infect Dis. 2018 Oct;92(2):136-142. doi: 10.1016/j.diagmicrobio.2018.05.014.
Adams AJ, Dering-Anderson A, Klepser ME, Klepser D. The Roles of Pharmacy Schools in Bridging the Gap Between Law and Practice. Am J Pharm Educ. 2018 May;82(4):6577. doi: 10.5688/ajpe6577.
Pearce JA, Shiltz DL, Ding Q. Effectiveness and Safety Comparison for Systemic Corticosteroid Therapy With and Without Inhaled Corticosteroids for COPD Exacerbation Management. Ann Pharmacother. 2018 Nov;52(11):1070-1077. doi: 10.1177/1060028018777769.
Grice GR, Thomason AR, Meny LM, Pinelli NR, Martello JL, Zorek JA. Intentional Interprofessional Experiential Education. Am J Pharm Educ. 2018 Apr;82(3):6502. doi: 10.5688/ajpe6502.
Mindikoglu AL, Opekun AR, Mitch WE, Magder LS, Christenson RH, Dowling TC, Weir MR, Seliger SL, Howell CD, Raufman JP, Rana A, Goss JA, Khaderi SA, Vierling JM. Cystatin C Is a Gender-Neutral Glomerular Filtration Rate Biomarker in Patients with Cirrhosis. Dig Dis Sci. 2018 Mar;63(3):665-675. doi: 10.1007/s10620-017-4897-z.
Mindikoglu AL, Opekun AR, Putluri N, Devaraj S, Sheikh-Hamad D, Vierling JM, Goss JA, Rana A, Sood GK, Jalal PK, Inker LA, Mohney RP, Tighiouart H, Christenson RH, Dowling TC, Weir MR, Seliger SL, Hutson WR, Howell CD, Raufman JP, Magder LS, Coarfa C. Unique metabolomic signature associated with hepatorenal dysfunction and mortality in cirrhosis. Transl Res. 2018 May;195:25-47. doi: 10.1016/j.trsl.2017.12.002.
FY 2020
PI: Klepser, Michael
Project Title: "Characterize time, resources, and acceptance associated with two pharmacy-associated disease management programs utilizing CLIA-waived point-of-care tests"
Sponsor: Quidel (San Diego, CA)
FY 2019
PI: Nybo, Eric
Project Title: "Metabolic engineering of novel branched-chain sugar pathways for production of novel tetracenomycins"
2019 Research Starter Grant
Sponsor: American Society of Pharmacognosy
PI: Sahr, Michelle
Project Title: "Nicotine Replacement Therapy (NRT) Treatment and Behavior Support for Electronic Delivery Systems (ENDS) Cessation"
Sponsor: Michigan Pharmacy Foundation

FY 2018
PI: Bright, David
Project Title: "Genomic Opioid Research" (Subcontract)
Prime Awardee: Kalamazoo County Mental Health and Substance Abuse Services
Sponsor: Michigan Department of Health and Human Services
PI: Nybo, Eric
Project Title: "A Novel Metabolic Engineering Platform for Production of Anthracyclinones"
Sponsor: MEDC Proof of Concept Award
INVENTOR(S): ANNA LANGERVELD (Genemarkers), DAVID BRIGHT (Ferris State University), MINJI SOHN (Ferris State University), CLAIRE SAADEH (Ferris State University), SUSAN DEVUYST-MILLER (Ferris State University)
TITLE: "RISK EVALUATION OF GENOMIC SUSCEPTIBILITY TO OPIOID ADDICTION"
APPLICATION SERIAL NUMBER AND FILING DATE: CONFIDENTIAL
INVENTOR(S): RAJESH H. AMIN (AUBURN UNIVERSITY) and TRACEY WARD (FERRIS STATE UNIVERSITY)
TITLE: "NOVEL DUAL PPAR-DELTA AND PPAR-GAMMA AGONISTS"
APPLICATION SERIAL NUMBER AND FILING DATE: CONFIDENTIAL
INVENTOR: ERIC S. NYBO
TITLE: "GENETICALLY MODIFIED HOST ORGANISM FOR EXPRESSING AN ANTHRACYCLINONE ANALOGUE, METHOD ASSOCIATED THEREWITH, AND SYNTHETIC NUCLEIC ACIDS"
APPLICATION SERIAL NUMBER AND FILING DATE: CONFIDENTIAL
INVENTOR(S): RAJESH H. AMIN (AUBURN UNIVERSITY), ORLANDO ACEVEDO (AUBURN UNIVERSITY) & TRACEY WARD (FERRIS STATE UNIVERSITY)
TITLE: "DUAL PPAR-DELTA PPAR-GAMMA AGONISTS"
U.S. Patent Issued No: 9,422,239
ISSUE DATE: AUGUST 23, 2016
Pharmacy News Archives