Options: Bachelor's
Locations: Main Campus, Online
Why Choose Health Information Management?
The demand for health information managers continues to increase. Rapid changes in health care regulations require individuals skilled in the interpretation of health data. Individuals with an interest in computers, health care and business will find that health information management is a challenging and fulfilling career option.
General education and support courses can be taken at another college or university and transferred to Ferris in fulfillment of graduation requirements. A minimum of 30 semester credit hours must be earned at Ferris in order for the degree to be granted.
At the end of the program, you will be eligible to apply to write the national certification examination to earn the designation of Registered Health Information Administrator (RHIA).
Career Opportunities
Health Information Managers have the skills and abilities to accept supervisory positions in health care facilities. They can do the same kind of work as the health information technician or supervise the daily routine of the medical record department, working with the employees to make sure that procedures are carried out correctly. They can be responsible for training employees or evaluating their performance
Earnings of health information managers vary by type and size of facility, level of responsibility and geographic region. The 2021 median pay for health information managers was $105,880. (Bureau of Labor Statistics, 2022) Graduates of the program are immediately employable in a variety of health care settings.
In the fall of each year, satisfaction surveys are sent via email or U.S. mail to Health Information Management graduates and employers. For the 2021-2022 academic year, 11 HIM graduate and employer surveys were sent out. Six graduate surveys and four employer surveys were returned. Results showed that:
89% of the Health Information Management (HIM) graduates are employed and/or continuing their education
93% of the HIM graduates are satisfied with the education they received at Ferris
88% of the employers are satisfied with the HIM graduates that they hired.
90% of the students with HIM as declared major graduate with the HIM degree.
More Information
College of Health Professions
Ferris State University
200 Ferris Drive
Big Rapids, MI 49307
Phone: 231-591-2270
[email protected]
Accreditation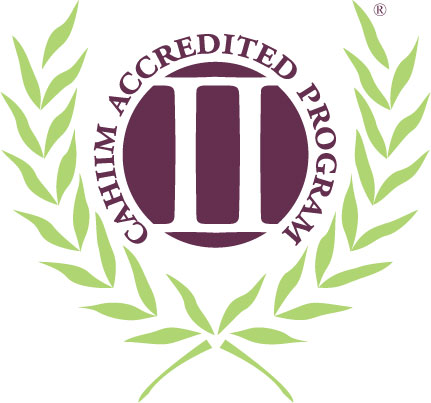 The Health Information Management accreditor of Ferris State University is the Commission on Accreditation for Health Informatics and Information Management Education (CAHIIM). the College's accreditation for the Bachelor's degree in Health Information Management has been reaffirmed through 2029-2030. All inquiries about the program's accreditation status should be directed by mail to CAHIIM, 200 East Randolph St., Suite 5100, Chicago, IL, 60601; by phone at 312.253.3255; or by email at [email protected]