Darci Napolillo's Internship at the John Ball Zoo
Ferris Program: Hospitality Management
Internship: John Ball Zoo and the Bissell Tree House in Grand Rapids, Michigan, Event Staff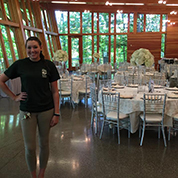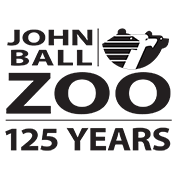 This summer I was on the event staff for the John Ball Zoo and the Bissell Tree House in Grand Rapids, MI. I learned about the planning and organization of events both within the zoo and of private events at the Tree House such as wedding ceremonies, receptions and corporate meetings and parties. I also helped to facilitate the events and fundraisers for the zoo.
Ferris Core Value Related to this Internship
My internship has related most to Ferris's core value of collaboration. In order for an event to run smoothly, everybody involved in the process must work together and communicate. With the Bissell Tree House being such a unique venue, building relationships with certain vendors that get to know the space and keeping them in communication is crucial. Also, the entire zoo itself would not be able to function without collaborating with everyone involved in the zoo and the support of the Grand Rapids community.
Volunteer, Campus Involvement, and/or something special about you
I was the theme and décor assistant manager for the 25th annual Hospitality Gala as well and have participated in the event for the past 3 years. I have also volunteered for other events such as the career fair on campus and the PCMA Bowl-a-thon in Chicago, IL.
Future plans
I would like to be an event planner for a non-profit organization after graduation.
Advice for other students
Intern for a company or organization that encompasses what you are passionate about. I love what John Ball Zoo brings to the Grand Rapids community and all they do for the care and conservation of animals and nature. Ask a lot of questions about the work you are doing and learn as much as possible about the position you are shadowing. Most advisors are more than willing to give you information and help you learn as much as possible.