Glen Okonoski, MS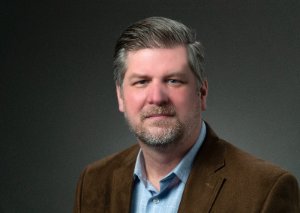 Professor, Television & Digital Media Production
Director, School of Digital Media
School of Digital Media
Phone: (231) 591-2709
Email: [email protected]

Education
MS, Ferris State University, Career & Technical Education
BS, Ferris State University, Television Production
Biography
Glen is a graduate of Ferris State University with a Bachelors degree in Television Production and a Masters degree in Career and Technical Education. Before joining the faculty at Ferris in August of 2006, he worked as a video producer for over 12 years working at WOTV in Battle Creek, in the Television Production Department at Amway Corporation and in the Media Production Department of Grand Rapids Community College. He also continues to work as a freelance videographer and editor.

Glen has produced over 70 episodes of the award-winning Cooking with Angus Campbell television series, as well as producing videos for the Grand Rapids Symphony, the Grand Rapids Area Chamber of Commerce, Grand Rapids Allergy, the YWCA, Meijer Corporation, Van Andel Institute, the River Bank Run, among others. In 2013 he released his feature-length documentary titled: White Birch Lodge, a Family Affair, which was screened as part of the 2013 Festival of Arts in Big Rapids, Michigan. During the pandemic, Glen produced many virtual performances for a variety of Grand Rapids Arts organizations, creating videos resulting in total of over one million views.

As the administrator for the School of Digital Media at Ferris State, Glen coordinates the Television and Digital Media Production B.S., the Digital Animation and Game Design B.S. the Digital Media Software Engineering B.S. degrees, and the Esports Production B.S. degree, as well as SDM's Pre-Digital Media A.S. degree. He also teaches production oriented classes related to both field and studio production including the TDMP program's capstone course. Glen is passionate about teaching, and his goal is to help students prepare for successful careers in the broad spectrum of storytelling that graduates from our school are well prepared for.
Publications and Intellectual Contributions
Presentations
Presentation
Okonoski, G., US – Turkey Creative Economies & Business Summit, "Cross-Cultural Challenges in Doing Business: Building Relationships and Engaging Locally," (2018).
Lecture
Okonoski, G., Ferris Media Festival, "HD Workflow – Going Tapeless," Ferris State University, (2018).
Presentation
Okonoski, G., "The Feminine Mystique: Integrating and Encouraging Female Production Students in Live Student Sports Broadcasts," Broadcast Education Association, (2018).
Other
Okonoski, G., Festival of the Arts, "White Birch Lodge, A Family Affair," Big Rapids, MI, (2018).
Lecture
Okonoski, G., Artprize, "Artist Lecture Series: I Never Saw Another Butterfly," (2013).