Operations and Supply Management Students Compete at APICS Great Lakes Student Competition
February 26, 2016
Four Operations and Supply Management students recently represented the Ferris State University College of Business at the American Production and Inventory Control Society (APICS) Great Lakes Student Competition in Downers Grove Illinois. To qualify for participation in this event, students first competed in an online simulation called the "Fresh Connection," which mimics different management positions within an organization. Of the many teams who participated in the qualifying round, only the top 24 were asked to attend the competition. The Ferris State chapter was among the 24. The team, made up of students Paula Downs, Danielle Bosma, Leesa Deadwyler, and Josh Truesdell, took sixth place in the competition.
Faculty advisor Dr. David Marion says that the team did very well, especially considering they competed against universities that practice the simulation in their classes. He also stated "overall we all felt the experience was a very good one."
If you are interested learning more about APICS or this competition, please contact, Dr. Marion or Paula Downs, the president of the RSO.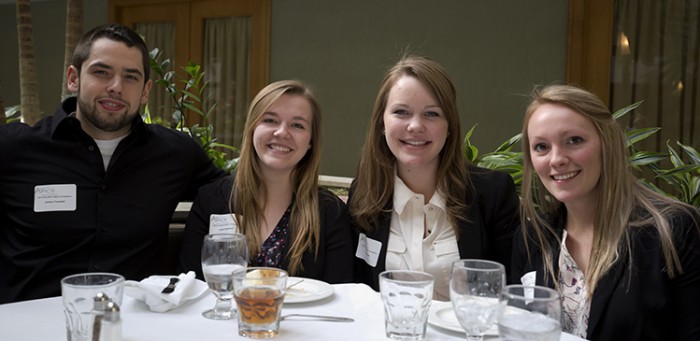 From left to right: Truesdell, Deadwyler, Downs, and Bosma at the competition.