Ferris State University College of Business Partners with Auto-Owners Insurance for High School Challenge
April 30, 2023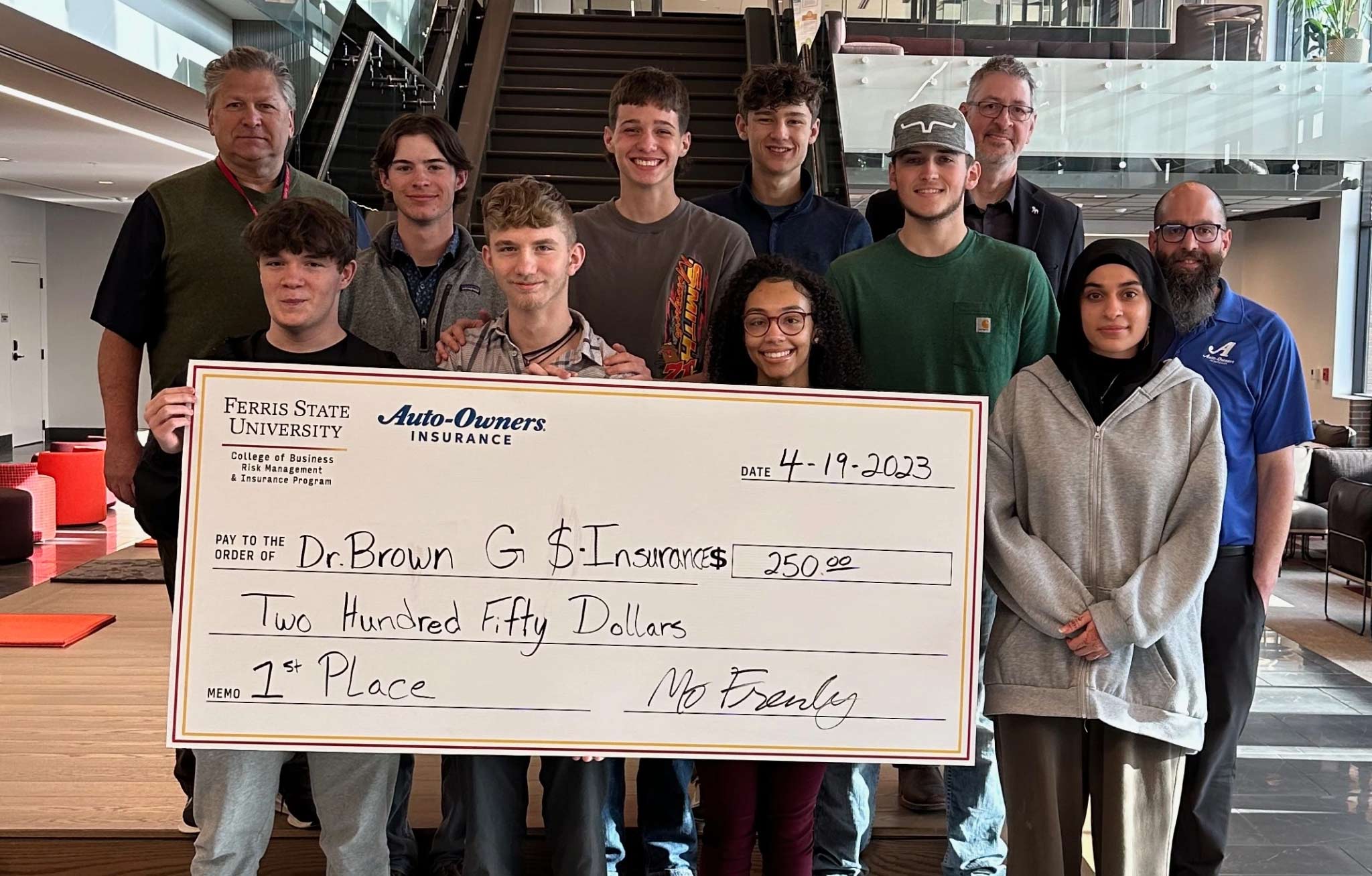 Students from Eaton RESA receives their first place prize.

Throughout the spring 2023 semester, FSU Risk Management & Insurance faculty partnered with Auto-Owners Insurance to host a simulation competition for Michigan high schools.
The challenge included business classes from twenty high schools, where each class operated a fictional insurance company. Classes began work in early February with a series of "pre-challenge" education videos providing the students with information on the roles, functions, and operations of an insurance company.
The competitive phase of the challenge began during the week of February 20th, 2023, and ran through March 24th, 2023. Each participating class submitted their strategic decisions through five weekly rounds of competition. Results were compiled weekly and reported in the "Ferris State Insurance News" journal; which included commentary and comedic "company spotlights" by editor "Mo Frenly."
One teacher leading their class in the competition reported, "This was a great introduction to the programs Ferris offers in Risk Management. Our students were eager to learn more as this exposure was eye opening to various careers and studies."
Scoring was done by an algorithm that considers the insurance companies' total assets, surplus, and net premiums written throughout each round of the simulation. Students had to make decisions that included marketing expenditures, underwriting standards, pricing, financial portfolio allocation and strategy, agent commissions, and reinsurance usage.
At the conclusion of the challenge, Ferris State University Professor Dr. David Brown, along with representatives from Auto-Owners Insurance, visited the top four schools to distribute cash prizes and pizza parties while interacting with students regarding the insurance challenge, as well as discussing career opportunities in risk management and insurance and the Ferris State Risk Management and Insurance academic program.
Top four winners
1st Place: Dr. Greg Brown's "G-$ Insurance" insurance and risk management students from Eaton RESA
2nd Place: Ms. Hannah Blust's "Leroy Insurance" business management students from Iosco RESA in Tawas City
3rd Place: Ms. Monique Colizzi's "Securely Yours Insurance" business and risk management students from Ingham county's Wilson Talent Center
4th Place: Mrs. Christina Carroll's "Shellter Insurance" business administration students from Mio AuSable High School