Ferris State University Professor Presents Integrative Technology at MACUL Conference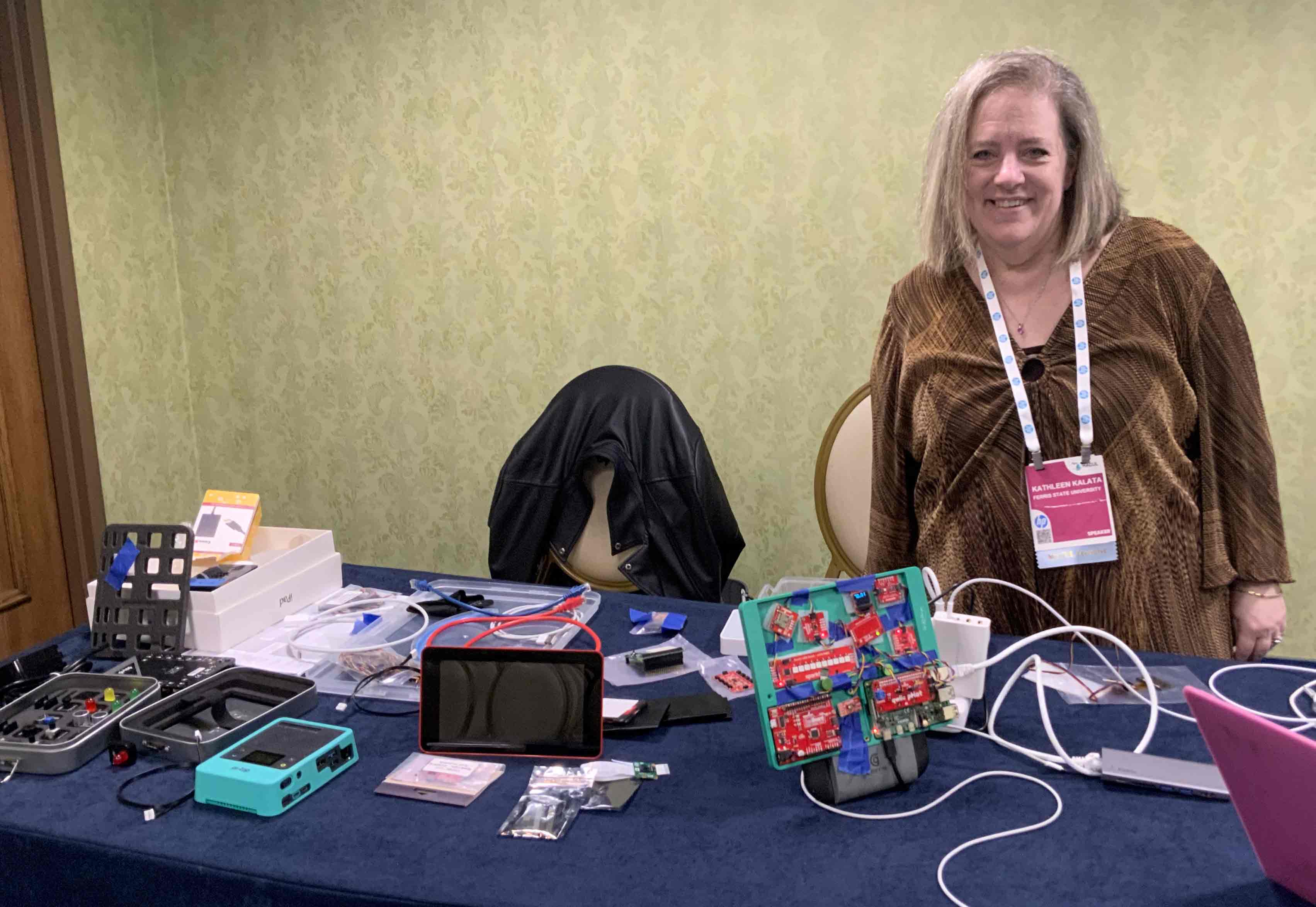 April 5, 2022
Ferris State University's Dr. Katie Kalata presented how to integrate System on a Chip (SoC) to K-12 classrooms where over 3,000 people attended the Michigan Association for Computer Users in Learning (MACUL) conference in Grand Rapids, earlier this month.
In the session Dr. Kalata demonstrated how to use SoC technologies, microcontrollers, and sensors as new ways for K-12 teachers to develop engaging activities for students. The Internet of Things (IoT) can be used to help students learn about networking, information systems, web development, security, and data analytics. The presentation included demonstrations of innovative technologies, which help students and teachers to experience the Internet of Things!
Today's computing standards are focused on "computational thinking" which is a broader concept where students apply strategies to define and solve real-world problems in ways that leverage the power of technology. Implementing IoT projects in the classroom is one way for K-12 teachers to help students learn about the technology programs offered at Ferris and the opportunities in the technology fields.
Conferences such as MACUL are critical to help bring technologies to K12 educators, as well as to educate teachers about the wide range of educational resources available. The ability to connect with teachers, and share resources, teaching strategies, and technical knowledge and skills is essential to helping faculty expand their lessons to include a variety of experiences for their students. Presenting at MACUL helps K12 teachers learn about a variety of amazing opportunities for students in computing.
Ferris State University prepares students for a variety of computer-related careers such as Software Developer, Computer and Information Systems Managers, Information Technology Project Managers, Network and Computer Systems Administrators/Architects, Database Administrators, Information security analysts, Web Developers, Software Engineers, and more!
Dr. Kalata hopes to return next year with additional captivating material.