Emily Obermeyer Shares her Internship Experience at ViacomCBS
December 1, 2021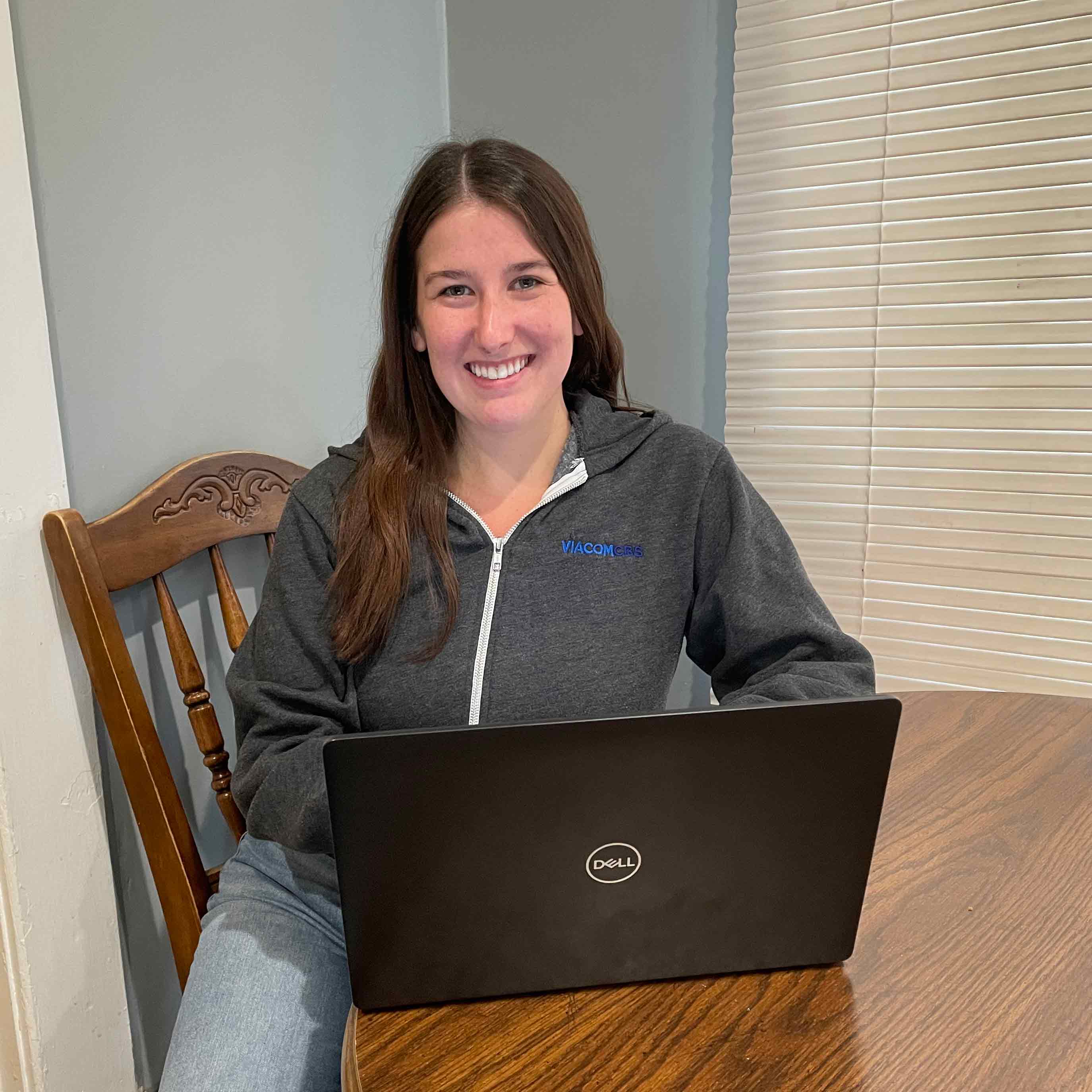 Emily Obermeyer completing her remote internship from the location of her choice.
Emily Obermeyer is a Senior in the Information Security & Intelligence Program, concentrating on Project Management here at Ferris State University. She will be graduating in Fall 2022 with a master's degree. She took a leap of faith and applied for an internship posting for ViacomCBS, went through a couple rounds of interviews, and ultimately landed the position!
Outside of classes, Emily is active on campus in many extracurricular roles, such as Vice President of Finance for Alpha Sigma Tau, Treasurer of the Panhellenic Council, and Secretary of Order of Omega.
Emily previously secured an internship for the summer of 2020, but that experience was taken away by Covid-19 restrictions. For her ViacomCBS internship, she found "while it was all virtual, you can still have an amazing, worthwhile internship full of professional and personal growth while working from home!" ViacomCBS is a large multinational media and entertainment company based in New York; its many locations feature Royal Oak, Michigan.
While working for ViacomCBS, Emily explained that her primary role was to help collect information on the social media accounts of the various brands they work with, and to find the direct contact for each. She further explained, at a large media company such as ViacomCBS, there are "thousands and thousands of accounts for every television show, movie, special, brand, etc." According to Emily, this information is critical to "help work with the social media managers to keep their accounts secure." Her job also included working with her team to help ensure that the vendors that ViacomCBS works with follow basic guidelines and procedures to keep client content safe.
Through this experience, Emily has learned the diverse ways her cyber security team can work alongside, and support clients' needs in the media industry. With the support of her team, she learned how to pick up new skills quickly and develop said skills as she learned from her coworkers about the media industry. Upon completing the summer internship, ViacomCBS offered her a second internship for the Fall 2021 semester. The process of this internship has helped Emily define where she wants to take her career after college.
With the internship experience Emily fulfilled, she now feels that she will succeed in any position she gets upon graduation. Emily reports, "I have learned so much about how I can use my strengths to help my team while also learning new skills. This has been a great way to apply my classroom knowledge while still challenging myself and learning new things."
Regarding searching for internships, Emily offers up solid advice, "if you feel discouraged that you are not getting interviews or not getting internship offers, keep applying! While it can be discouraging, something will work out if you keep putting in the time and effort."