CAS Faculty Publish New Books
April 12, 2017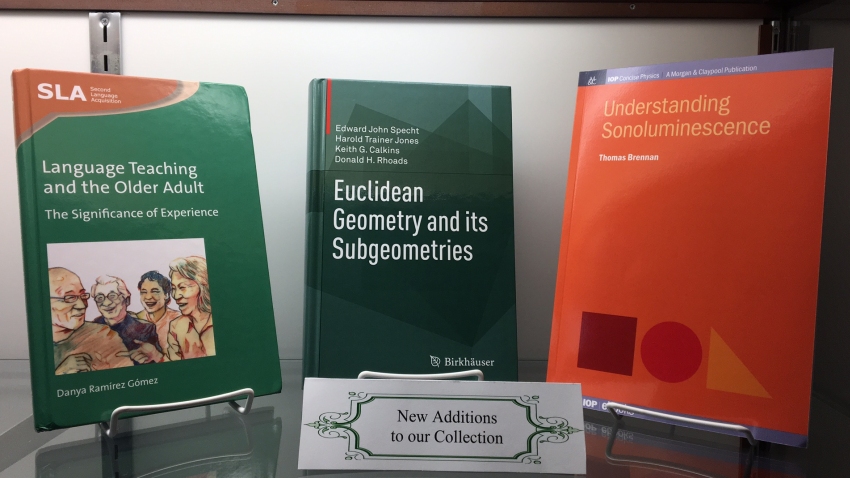 Three members of the College of Arts, Sciences and Education faculty have recently published books.
Dr. Thomas Brennan, a professor in the Department of Physical Sciences, has published Understanding Sonoluminescence (Morgan and Claypool Publishers).
Book Summary: Sonoluminescence is the transformation of sound into light. To most who know how to do sonoluminescence, it's just a little glowing bubble levitating in a flask of water. But it holds some surprises that have been overlooked. This book looks to reform our scientific understanding of sonoluminescence and explore the practical applications as an energy source.
Dr. Keith G. Calkins, also a professor in the Department of Physical Sciences, is the co-author of Euclidean Geometry and Its Subgeometries (Birkhäuser).
Book Summary: Euclidean Geometry and Its Subgeometries provides a complete and rigorous axiomatic treatment of Euclidean geometry. Proofs for many theorems are worked out in detail. The book takes a modern approach by replacing congruence axioms with a transformational definition of congruence.
Danya Ramírez Gómez, an adjunct instructor in the Department of English, Literature, and World Languages, has published Language Teaching and the Older Adult: The Significance of Experience (Multilingual Matters).
Book Summary: The aging of the population and the increasing number of older adults pursuing foreign language courses call for a greater understanding of the ways in which these individuals learn foreign languages. This book offers a pioneering contribution to the literature on foreign language education for older adults (aged 60 and over), termed foreign language geragogy.