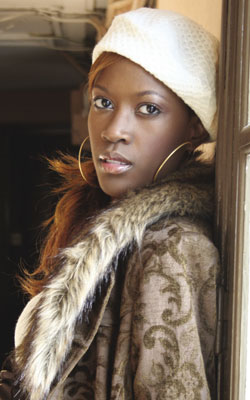 With a leading role in the feature-length independent film The Boy with the Sun in His Eyes, another major role in the film One Hit Wonder, and a bit role in Tyler Perry's Madea Goes to Jail, Mahogany Reynolds-Clarke (AS'93), known to many of her classmates as Julie, is moving from the fashion runway to the movie set.
Mahogany's modeling career also includes print and television in addition to such fashion coups as being a top model during the 2007 Detroit Fashion Week. Even though it seems like a big change to play Solange, a "hit woman" who wreaks havoc (albeit fabulously) across Europe, Mahogany says she felt a kinship upon reading the script.
"I felt like the character was basically me minus the assassinations! I wanted to do an action-type film, because it seems to me there aren't a lot of African-American actresses who get those kinds of roles. It was a lot of hard work physically, but it was exhilarating."
In making the successful transition to acting, Mahogany typifies the kind of dedication to craft that so many careers in the creative arts require. She hopes that others follow the dreams they have instead of settling for easier, but less fulfilling paths.
"I encourage current students and fellow graduates to pursue your passion. When you have faith and determination you can achieve anything," she says.