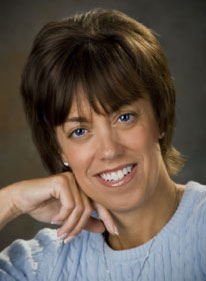 In October 2007, Lori Totten (AHS'85) was recognized as one of the country's top-five dental hygienists in a nationwide competition sponsored by Discus Dental and Modern Hygienist magazine.
As a finalist, Totten traveled to Beverly Hills, Calif., for a four-day trip whose highlights included meeting with top executives from the dental field including "Extreme Makeover" star and Discus Dental co-founder Dr. Bill Dorfman.
During the California portion of the BreathRX Hygienist of the Year competition, Totten and the other finalists were interviewed by top dental professionals and had "speed-dating" style interviews with editors of Modern Hygienist and representatives from the American Dental Hygienists' Association.
The finalists also took part in media interviews and screen tests for a Discus Dental commercial. Totten's wardrobe included both professional and formal attire accessorized with more than $15,000 of diamonds and pearls selected and provided by Trent Almassian of Almassian Jewelers in Grand Rapids.
More than 500 dental hygienists throughout the United States applied for the prestigious honor. The judges were impressed by Totten's 22-year commitment to excellence in patient care and her embrace of spa therapy, digital dentistry and the new cosmetic technologies.
"I have been able to work in a practice where I am respected and challenged to be the best I can be," said Totten, who has worked for Tom Lambert D.D.S. in cosmetic and restorative dentistry in Grand Rapids for the last 15 years. "My Dental Hygiene degree from Ferris has provided that opportunity for me. I feel blessed that my training and education has helped me be successful in my career."
Totten and her husband, Jeff (T'85) met while members of the Ferris marching band. They have three children: Kala, Zachary and Nicole who begins her studies at Ferris in this fall.
Modern Hygienist published articles featuring Lori's achievements in its October and November (2007) issues.