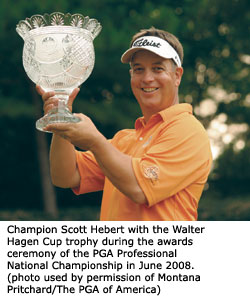 Only 20 non-tour professional golfers qualified to play in the 2008 PGA Championship, which was held at Oakland Hills Country Club in Bloomfield Township — and Ferris State University alumni accounted for two of those coveted slots.
Scott Hebert (B'92, pictured) and Alan Morin (B'92) vied for one of golf's four major championships thanks to their performance at the PGA Professional National Championship at River Pointe Golf Club in Albany, Ga., in June of 2008.
Placing an exclamation point on his qualifying for one of the tour's big four events, Hebert, head golf professional at Grand Traverse Resort & Spa, won the PNC, a tournament that gives club professionals and teachers a shot at appearing in the PGA Championship.
Hebert, a six-time Michigan Open champion, birdied five of the first seven holes on the back nine to finish with a 4-under-par 68, a total tournament score of 12-under-par 276 and a one-stroke win. The victory garnered him a $75,000 payday and entry into six additional PGA Tour events over a 12-month period.
Morin, assistant golf professional at The Falls C.C. in Lake Worth, Fla., joined Hebert at Oakland Hills by virtue of his tie for 15th place with a total score of two-under-par 286. Morin also made the cut at the PGA Tour's 2007 Honda Classic.
Hebert's appearance at the 2008 PGA Championship was his second consecutive time contesting that event, while Morin has played in three previous PGA Championships and two U.S. Opens.
Both men hold degrees in Professional Golf Management.