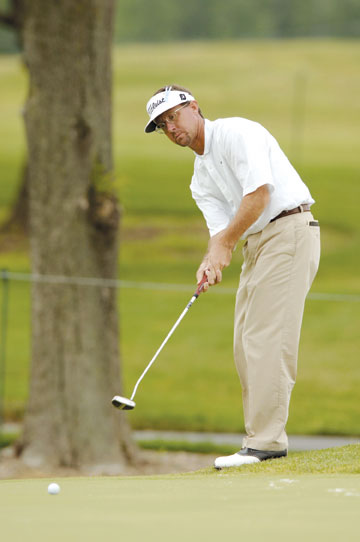 A paved street can make for an improvised hockey rink for kids withinline skates and portable nets. In a pinch, a street can also stand in for a football field or baseball diamond. But a driving range?
"The road we lived on in Connecticut was really quiet. There were only five or six houses on the street. I used to hit balls off a piece of carpet into the back yard with a pitching wedge. That's how I practiced," says Alan Morin (B'92).
In an age of personal trainers and sports psychologists, the self-taught Morin has played in five major tournaments ­ two U.S. Opens and three PGA Championships. He has made the cut at a PGA Tour event and represented the U.S. in the PGA Cup Match.
Not bad for somebody who started out with plastic clubs.
Teeing Off
It was Morin's grandfather who got him interested in the game, by starting him out with toy clubs before scaling a 7-iron down to size. The future professional didn't get a full set of clubs until he was about 15. "I used to have a pitching wedge and a putter, and I'd ride my bike about 15 miles to a public golf course. I'd take a duffel bag of balls and practice pitching and putting," says Morin.
Growing up in the small town of Somers, Conn., Morin faced another hurdle in his path toward playing competitively ­ the school didn't have a golf team.
"So what I would do is follow the team from the next town over ­ go to their matches and play and turn in my scores. My junior and senior years I qualified for the state tournament that way."
During his senior year of high school, Morin was looking for a way to continue with his passion for the game. His counselor gave him the names of schools with golf-related programs. Morin chose the "only school that sounded interesting" - Ferris State University.
In Big Rapids, Morin majored in Professional Golf Management and tried out for the golf team. After failing to make the squad in his freshman year, Morin was a member of the team that won the GLIAC championship in 1989. "I wouldn't trade the experience I had at Ferris for anything," says Morin. "The students in the PGM program were very closely knit. The program is absolutely fantastic. I tell people to go to Ferris for PGM if they are interested in getting into the golf business. It's the best one of all the schools."
For lots of people, such collegiate accomplishments would be their "glory days." But for Morin, he says the first "big" tournament he played in took place in San Francisco in 1998. Calling the U.S. Open "big" is as much of an understatement as describing Tiger Woods as a "good" player.
Major Accomplishments
In theory, any one of the more than 25 million golfers in the United States could qualify for the U.S. Open. Any player who has worked hard enough to get their handicap down to at least 1.4 can enter sectional tournaments to get a spot in what is arguably the world's most prestigious tournament. In reality, only 156 golfers each year get to tee off in the quest to get their names in the history books.
Morin got his first chance in 1998 at the Olympic Club in San Francisco.
"It was just incredible. I hadn't qualified for a PGA event or anything like that before," says Morin. "The only thing I'd played in was a couple of South Florida PGA section events. I was suddenly thrown into the biggest spectacle golf has."
Even before he teed off officially, Morin played a practice round with PGA stars Justin Leonard and Matt Kuchar, and the player who at that time was most in the news, Casey Martin.
"He was going through the thing with the Disabilities Act," says Morin. Martin suffers fromKlippel-Trenaunay-Weber syndrome ­ a birth defect that in Martin's case causes pain in his right leg that is aggravated by walking. He sued the PGA to be able to use a motorized golf cart during tournaments. "The crowd around the first tee was just incredible. ESPN was there. Everybody was following Casey, who was out riding his cart."
Between the U.S. Open and PGA Championships, Morin has played practice rounds or been officially paired with Tom Watson, Bernhard Langer, Graham Marsh, Hale Irwin, Stuart Appleby, Kenny Perry, Carlos Franco, Adam Scott and many others. "You run into these guys and they remember you. That's one of the neatest things. They remember you and say hi and talk to you," says Morin. "They're just regular guys."
Making the Cut
Perhaps Morin's best stretch as a professional player came in 2003. The previous year he was South Florida PGA Section champion, which qualified him to play in the Honda Classic. Morin shot a two-under-par 70 in the first round and was even-par on his second round with three holes to play when things started going his way.
"On the par-four 7th hole [Morin started on the back nine] I holed out a wedge from about 107 yards for an eagle. Some folks and members who knew me were following me, and I heard them scream," says Morin. "The next hole was a par 3. I hit a 9-iron to within about 10 feet and made that to go to five under. My last hole was a par 5. I decided to lay up with a 5-iron to within about 70 yards of the green. I hit a sand wedge to within about 7 or 8 feet of the hole and made that."
In the clubhouse at six-under par, Morin seemed assured of playing in the final two rounds. "Then we got in and started watching the computer, and everyone started playing really well. The cut ended up being six under. There were quite a few names I finished in front of who play week in and week out. So that was kind of a confidence-booster, but also a little nerve-racking watching the cut go to six under."
Two weeks earlier, Morin had played in the PGA Cup Matches, in which the top ten club professionals from the U.S. and Great Britain compete. "It's exactly like the Ryder Cup, except we don't have 35,000 people in the gallery," notes Morin. "We have maybe 1,000." By winning all of his matches, Morin helped the U.S. squad capture the cup in record time. "We broke about every Cup match record. We won the Cup in two days ­ it was mathematically impossible for UK to win after two days." Morin finished his singles match in style, holing out a putt of between 40 to 50 feet for an eagle on the 16th hole to beat his opponent 3 and 2.
During 2005 and 2006, Morin spent time playing tournaments on the Grey Goose Tour, one of the "minor leagues" of the PGA tour. He won an event last June on the strength of shooting a 64 in the second round, tied for second in another event and played well in a number of other tournaments. The minor league tour also hosts some one-day events ­ one of which he won last fall by shooting a 62 ­ a feat he relates with aplomb. "Yeah, I won by a couple of shots. The one-day events are something to play in to stay competitive; it's better than going out and getting bored by just hitting balls. The ultimate goal is to get to the PGA Tour, but being a club professional is a wonderful career."
Altogether, the 1989 Bulldog MVP and GLIAC Regional Championship medalist was South Florida PGA Section Player of the Year from 2002-04. He won the South Florida PGA Open with a tournament record 23-under-par. He has had two top-ten finishes in the National Club Professional Championship and competed in five major championships: the 1998 U.S. Open at The Olympic Club in San Francisco and the '03 Open at Olympia Fields Country Club in Chicago; his three PGA Championship appearances include 2002 at Hazeltine National Golf Club in Chaska, Minn., '03 at Oak Hill Country Club in Rochester, N.Y. and in '05 at Baltusrol Golf Club in Springfield, N.J.
Mark Twain famously quipped that golf is "a good walk spoiled." For Morin, it's been a good walk. Period.
Alan Morin is a PGA assistant golf professional at The Falls C.C. in Lake Worth, Florida.