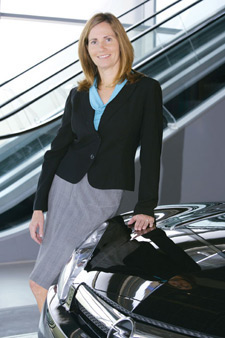 Julie Hamp (T, EHS'82) is vice president, communications, for General Motors Europe. Located at GM's regional headquarters in Zurich, Switzerland, Hamp is responsible for all communications activities in Europe, including corporate, product and internal communications for Cadillac, HUMMER, Saab, Opel, Vauxhall and Chevrolet.
Hamp began her GM career in 1982. In 1987, she went to work at the Flint Automotive Division overseeing both internal and external communications. Following this assignment she held several positions of increasing responsibility, until she became communications director for Cadillac and vice president of corporate communications for Saturn. Later she was named general director of communications for the Latin America, Africa and Middle East region of General Motors, based in Miami, Fla.
Crimson & Gold talked to Hamp about her career, cultural differences and what kind of car she drives.
CRIMSON & GOLD: Your current position is head of communications for General Motors in Europe. How many regions does GM have?
JULIE HAMP: GM is configured into four regions: North America, which is the largest region in terms of sales volume and revenue; GM Europe where I am, is the second largest; then there's Asia-Pacific; and Latin America, Africa and the Middle East.
C&G: Heading communications for Latin America, Africa and Middle East region was your previous position.
JH: Yes. I was based in Miami. Technically the office is in Miramar, just outside of Miami. We're located there because of it being a gateway to Latin America, so there are direct flights available. Of course, Africa and the Middle East are not so direct, so you get used to long flights to conduct business!
C&G: You do a fair amount of traveling in your position, then?
JH: More than a fair amount ­ a very unfair amount of travel [laughs]. But it's a business that's really all about relationships. Also, you really need to know who the customers are and how the products perform. A lot of this comes from absorbing the business through meetings with engineering or design or marketing so that we approach the consumer in a unified way. Our function is primarily focused on media relations.
There are meetings with journalists, and then there are a lot of shows throughout the year where manufacturers interface with the media. Last fall we attended the Paris Auto Show. Before that it was London. This year we have Geneva and Frankfurt as the two big shows. I'll travel to those and product launches, which is a pretty unique environment here in Europe. We launch simultaneously in many, many different countries and also invite the media to centrally organized ride and drive programs. They attend these programs in what we call "waves" ­ so that the program and our communication, including language, is customized for that market. If the Spanish-speaking media come in, we try to do a large part of it in Spanish. For the German media, we try to do a large part of it in German.
C&G: Do you speak a language other than English yourself?
JH: I speak Spanish, which is the only language I learned conversationally enough to go to dinner and speak for an entire evening. The more difficult area is conducting business entirely in Spanish ­ that is outside my reach, so we switch to English after the conversational start.
C&G: You've been with GM a long time ­ since 1981.
JH: I started that year as an intern at Buick Motor Division in Flint coming from the Television Production program at Ferris. Buick liked the six-month internship program offered by Ferris compared to the more typical three-month internship program. The other aspect that was very clever was that Ferris put the internship at the end of the program, so that it was your final element before graduating. You had practical, hands-on experience with a company or business and were immediately available should that company want to hire you. Also, you had experience that made you more attractive to be hired because you had the education and actual experience in that field. So for me, they extended my internship to almost a full year, and then I was fortunate enough to be hired. It wouldn't have happened if it wasn't for the internship opportunity. That was in '82.
C&G: Is there anything that resembles a typical day for you?
JH: Well, I guess I have two aspects of a typical day. When I'm in the office my schedule is usually really packed, because there's a lot of running the business you need to do. I get to the office around 7:30 a.m. and do my e-mails, because there's a never-ending flow of them with the different time zones I work with around the world. Then I usually have a series of meetings. There are also several people I mentor, so I might get a call from one of them. Usually I get those in the afternoon because they're calling from Detroit, but I have people I mentor in Miami, Latin America, Dubai and Europe. I might have a call from a consultant I tap into from time to time on some issues being covered in the media ­ getting his take on how the media in one country, Germany, for example, might be reacting to a story versus how the media in France or the United Kingdom are responding. In between all of those I keep my office door open and may interact with my corporate communications leader to discuss an interview request with my boss, who's the president of the region, or how to respond to other media inquiries. Then I'll do more e-mails before I head home, usually by seven. Because I travel so much, being home in time to have dinner with my family is a priority.
C&G: And when you're out of the office?
JH: I usually have breakfast or lunch with a mix of corporate and product media. Usually it's with the PR team. And then I go through business with the communications team. We look ahead and decide where to focus. I always visit with the leadership of the country I'm in, so he can let me know about the business challenges and how communications can help. And then, if possible, I visit a dealer. Recently I was in four countries in five days: Russia, Poland, Hungary and France. The dealer visit I made most recently was in Moscow, which was very, very insightful. It's important to stay close to the ultimate customer ­ the car-buying customer and the dealer is our closest link.
And then, in cultures outside the U.S., social time is very important to the people hosting you, because they're very, very proud of their country, and they want you to learn about it and experience the culture. It's also a time when people let their hair down a little and tell you what's on their minds. That's not a typical way that an American businessperson conducts business. They usually wouldn't have the business day extend into the evening. That was pretty much my routine for the last few months.
C&G: Where do you see yourself going in the future? Do you think you'll come back to the North American market?
JH: I certainly don't have a crystal ball. As long as my family has been willing, I have tried to accommodate going where the business need was greatest. For most people with a career in General Motors, all roads at some point lead to Detroit.
However, there's also Asia-Pacific ­ the only region I have yet not explored! China is growing astronomically. In fact, it's now the world's second-biggest market. The projections are that by 2010 or just after, it will be the number one car market ­ bigger than the U.S. market, which right now is about 4.5 million units. We're currently the number one foreign automaker in China. So who knows what's in the cards in the future?
C&G: I have to ask ­ what kind of car do you drive?
JH: Right now I'm driving an Opel Vectra. I get to drive company cars. In the U.S., that meant that every three months I'd be assigned a GM car to test drive. Here it's every six months. (We also drive the competition, by the way.) The other members of my family also drive GM cars: my husband likes large SUVs, like the Yukon; then I have an 18-year-old who also drives ­ she's in a Cobalt.
C&G: You've had quite a ride, so to speak, with GM.
JH: It's been 25 years now, and it's been a terrific experience in all areas of the business: engineering, manufacturing, sales, marketing communications for all those different areas and for our different brands like Saturn, Cadillac and Buick, followed by responsibility for entire regional business communications for multiple GM brands. It's been an amazing experience which, has provided me an incredible business perspective as well as the opportunity to develop great relationships and learn so much about the world outside of Detroit…or the world outside of Ferris! My education is really what made it all possible. I'd say that the cornerstone of that was the internship program. It really, really made a difference in helping starting me off on the right foot in life, and I'm very appreciative of that.