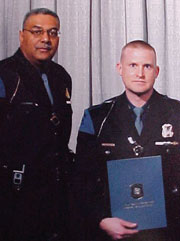 Officer J. Andrew Williams (EHS'94) was awarded The Michigan State Police Bravery Award by the MSP Board of Awards for risking his life and placing himself in danger to rescue two people from a burning home.
On Sept. 21, 2005, Williams was dispatched to a mobile home fire in Genessee County. Williams entered the smoke-filled home, feeling his way through a burning hallway until he located a 2-year old and a disabled woman in a rear bedroom. While trying to exit with the child, he found the front of the home engulfed in flames. Williams found a back-door and left the child with a waiting deputy paramedic, then re-entered the building with another deputy paramedic to rescue the woman.
"Within minutes of both subjects being evacuated, the home was overtaken by flames," stated an official release.
Williams was presented with the MSP Bravery Award at a special ceremony in Lansing last January. He lives in Chesaning with his wife, Stacey, and their two boys, Tanner and Hayden.