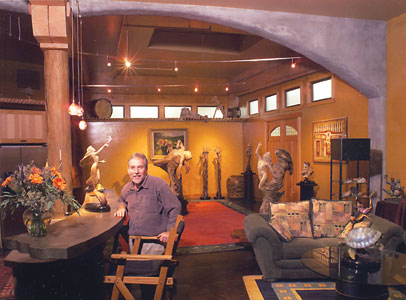 Martin Eichinger (B'69), recently moved his Eichinger Sculpture Studio from what has become Portland, Oregon's, trendy Pearl District, to its new location ­ a 9,000-square-foot building, circa 1920, on the corner of SE 25th and Division Streets. Twelve years ago Eichinger was among a handful of Portland artists who created studio spaces in the city's inner northwest industrial neighborhood that for many years had few residents and no shops or galleries.
The new multi-use studio features a reception area and offices, private gallery exhibiting career-spanning work, the artist's studio and common areas. Eichinger also has plans to establish the Fire & Earth Art Center in an adjacent building, fulfilling a long-time vision to create a non-profit student/artist-in-residence program highlighting narrative and romantic art.
Eichinger, whose work is represented in 30 galleries nationwide and included in more than 700 public and private collections, has won numerous competitions and awards for his bronze sculptures, and is the recipient of a Kellogg Internship and grants from the National Endowment for the Arts.
To see examples of Eichinger's work, visit www.eichingersculpture.com.