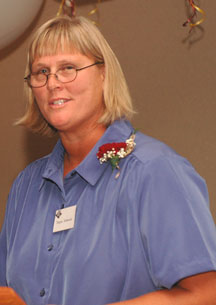 Last January, former women's basketball standout Tanya Johnson (AS'77, EHS'80) reached a milestone in her coaching career as she registered her 500th victory in her 22nd year as a prep head coach. The win came as she led her Loyola Academy (Ill.) Ramblers from suburban Chicago past Maria 68-19 in the opening round of the Girls Catholic Athletic Conference Red Division Tournament. Johnson's 500th win was the 20th-straight for Loyola, whose record at the time stood at 25-1.
Only two other female basketball coaches in Illinois have reached the 500-win plateau.
"This is for the players," Johnson said. "We've had some really good people who turned out to be good basketball players, too. And of the ones who weren't as talented, we've had so many with huge hearts who were overachievers."
After a one-year stint at Elmwood Park (Ill.), where she was 17-10, Johnson compiled a 202-64 mark before Marillac (Ill.) High School closed in 1994. At the time of her milestone at Loyola, she had racked up 281 wins against only 67 losses.
Johnson led Loyola to back-to-back Class AA state championships in 1997 and again in '98 when the Ramblers established a single season state record for victories with 36. She also coached the Illinois Player of the Year in 1998-99.
The 6-2 Johnson was one of the early Bulldog women's basketball greats. The two-time team Most Valuable Player guided Ferris to the school's first three winning seasons from 1974-77. The Big Rapids native later played for the Milwaukee Does, New Jersey Gems and Chicago Hustle, all teams in the first women's professional league. She was inducted into the Illinois High School Basketball Association Hall of Fame in April of this year.
Note: Courtesy information provided by the Pioneer Online Press (Wilmette Life edition).