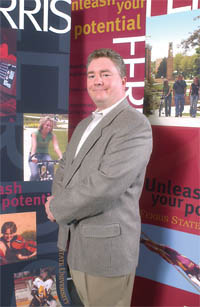 There are a myriad of factors a student considers when deciding what college to attend, from the strengths of its various programs to where it's located. For Mat Vivona, Pacesetter Award winner and new member of the Alumni Association Board of Directors, his long association with Ferris began because of the school mascot.
"I didn't even make the trip to Big Rapids before starting classes," Vivona recalls. "I just thought the Bulldog was a cool logo, so I said I was going to Ferris." Whatever his reason, Vivona quickly discovered that he had made the right decision.
"When it came time for orientation, I just fell in love with campus and the people, says Vivona. "The classes were small and we didn't have teacher's assistants teaching. The professors actually cared and took the time to know their students. I don't really think you'll find that in any other university."
In 1995, three years after Vivona graduated from Ferris with a degree in Business Administration, his father, Mat Sr., lost his life in a car accident, leaving Vivona to take over Troy-based Father & Son Construction, the family business. Although he had been working with the company since he was 15, running building permits and blueprints to jobs when he was old enough to drive before becoming a full-time construction supervisor, the sudden transition was the most difficult time of Vivona's life.
"Not only did I have to bury my best friend, but there were a lot of people looking at me and wondering how I was going to withstand the loss," says Vivona. "Our top sales person left. The bank had a lot of loan paper that my father had personally guaranteed, which had to be paid back immediately. Our CPA quit for different reasons, and I called off a wedding. 1995 was not a great year."
Nonetheless, for the last 22 years, Father & Son Construction has been listed as one of the top 100 remodeling companies in the United States. Their marketing slogan and advertising jingles are instantly recognizable to virtually everyone living in the greater Metro-Detroit area. (When Vivona was on campus to give a talk in the Backpack to Briefcase series, he asked the students if anyone knew their company jingle. In response a student nodded her head vigorously and sang, "No job too big, no job too small, Father & Son will do it all!")
His company is also known for its consumer advocacy - something you don't always expect from a business owner.
"There was a situation we had with a customer who spent more than $100,000 on various room makeovers and their shingles were failing, through no fault of ours," explains Vivona. "I wanted our company to stand behind our work. We contacted the company that made the shingles, and they refused to make good." Vivona then contacted a local television personality known for solving consumer problems, which resulted in a $6,500 check to the homeowner from the manufacturer.
For that and other actions Vivona has taken on behalf of his customers, the Detroit chapter of the Better Business Bureau asked him to sit on its board and is currently serving as chair.
Vivona also has continued Father & Son Charitable Golf Outings, which have benefited such charities as the American Red Cross, Cancer Society and Leukemia Society. The outing was founded by Vivona's father, along with Father & Sons office manager and sales manager. Vivona himself founded Father & Son Adopt-a-Family program to assist the Salvation Army with helping needy families during the holidays.
Vivona and his wife Carrie are members of the University's Phoenix Society, which recognizes those who have provided support of $100,000 or more, or an irrevocable deferred gift of $150,000 or more to the University.
The two met through a car deal. The sales manager at Father & Son had a nephew who worked with Carrie, who at that time was the receptionist at the dealership.
"I called and they introduced us when I went to pick up the car," recalls Vivona. I told her, 'You know, that salesman promised me that you come with the car!'"
Carrie was quick with a reply.
"I asked him whether I was going to be the hood ornament or the back seat driver," she says, laughing. "Two months after we got married he called me up and said he needed me to come work for him. I've been there for about six years now."
Through it all, Vivona has remained a Bulldog. In 1994 he bought Ferris—not the University, but a real bulldog. Ferris was named for Vivona's devotion to the University. Another bulldog, Lucky, followed Ferris.
From his Ferris license plate to his actions on behalf of the University, Vivona personifies the kind of alumni whose mission it is to keep Ferris State vibrant for generations of Bulldogs to come.