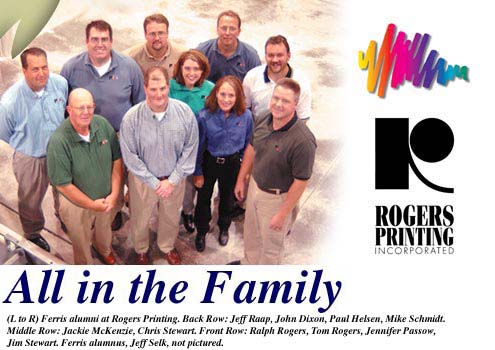 In 1888 Rogers Printing began by publishing a weekly newspaper, The Ravenna Times. Today, Tom Rogers (BS'88) carries on the family business overseeing a 100,000 square foot facility that uses an average of three semi-trailer loads of paper a day.
Rogers' great-grandfather who founded the company would feel right at home in the company's room-sized display of vintage printing equipment-at least the hand-set press part. These days, most of the company's business is conducted electronically. "Work that used to take weeks now takes days," Tom says, "or hours."
Organization as much as technology allows Rogers Printing to specialize in printing large orders of news-letters and other publications and then customizing them for specific groups. In the company's imprint center, Tom points to a current job being prepared for shipment. "This run may have 200,000 pieces," he says, "but 150 different versions."
Key to such an operation is personnel-11 of the company's 125 employees are Ferris alumni. "I don't know that it's been by design," Tom says of the large number of Ferris grads. "They just seem to have been the most qualified."
Tom is only the most recent Rogers family member and Ferris alumnus to head the company. Although retired from actively running the company, Tom's father, Ralph Rogers (AAF'57), still holds the title of company chairman.
Rogers Printing no longer publishes a local paper, but some things never change. An ad in that first Ravenna Times read, "We are Nicely Fixed for Job Printing." Not many advertising claims hold up after 113 years.