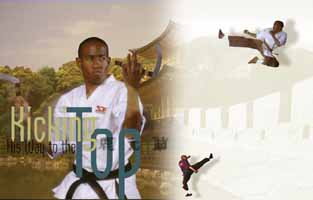 Alumnus "Ski" Allison prepares for his movie debut as a Dark Knight.
When the medieval thriller "Knight Chills 2" hits video stores and TV airwaves sometime in 2002, with its Dark Knight villain kicking and spinning across the screen in a tornadic attack on his do-good opponents, FSU science-fiction fans may recognize one of their own.
In this, his first full-length film, world kickboxing champion and Ferris alumnus Askia "Ski" Allison (AS'99) choreographs his own moves, weaving in some of the specialty maneuvers that distinguish his style.
"With my '720 kick' that I use in some of the scenes, I jump up, spin two times in the air and kick before I land," says Allison, who demolishes his opponents in the film. His twists and tricky kicks are the kind performed only by top-notch martial arts competitors.
Others in the film are professional actors, rather than professional martial arts experts, as Allison is.
"Ski is the best of the Dark Knight fighters," says Jeff Kennedy of Collective Development, the company producing the quarter-million-dollar film. "His role is a stealthy, Ninja-like fighter who totally destroys or seriously hurts his opponents. Of course, since the character's a villain, he eventually gets killed."
Allison's film part is vocal as well as physical, giving him opportunity to use his Applied Speech Communication major. Besides fighting and action scenes, the Dark Knight's script includes some speaking parts, as well as yells "kia" -- a martial arts technique to generate power and intimidation.
A Grueling Schedule
Kia aside, Allison's routine alone is intimidating. Before his day starts as marketing coordinator at Simplified Employment Services in Auburn Hills, he has begun his daily workout, running three miles in 21 minutes, followed by a regimen of push-ups and sit-ups. He weight-trains during lunch breaks and practices karate after quitting time to keep fit for his parallel career as a professional kickboxer.
In his off-time, he makes television commercials-he did one last summer for a Ford Motor dealership-and teaches karate to Beverly Hills, Mich., elementary and middle-school students. And, as part of his regimen to stay in top physical condition, he still manages to fit in seven to eight hours of sleep most nights. "A time-management class I took at Ferris helps me coordinate all this," he says.
It was during his Ferris days that he began teaching the martial arts self-defense he had begun learning when he was a mere 8 years old.
A presenter at Ferris' 1999 Women's Professional Development Conference, Allison taught attendees how to protect themselves from a would-be assailant. Skits on self-defense he presented for a Bulldog Bonanza activity gave him his first taste of acting.
"I hope 'Knight Chills 2' opens doors for more acting opportunities," Allison says. "But right now, I'm concentrating on the next world kickboxing championship." In that contest, Allison will play a more serious role-and this time he plans to be the hero.