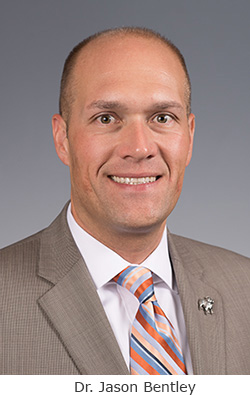 Dr. Jason Bentley serves Ferris in the multifaceted role as Dean of Retention and Student Success and as Interim Dean for the Ferris Library for Information, Technology and Education (FLITE).
In addition to FLITE, Dr. Bentley oversees the efforts of the Academic Support Center, Developmental Curriculum Department, Educational Counseling and Disabilities Services, Faculty Center for Teaching and Learning (FCTL), Honors Program, Media Production, Structured Learning Assistance, Tuition Incentive Program (TIP), Office of Transfer and Secondary School Partnerships, and the Ferris State University Seminar (FSUS) course.
"Jason has the administrative breadth to effectively lead FLITE especially as academic libraries' roles are evolving to better support student and faculty needs," said FSU Provost Paul Blake. "The new Academic Literacies Center in FLITE is just one example where Ferris is furthering its mission to help students succeed. Jason's leadership has been integral in that initiative and I am thankful he is willing to serve all of FLITE as Dean."
Prior to arriving at Ferris, Dr. Bentley served as vice president of Student Success at Morehead State University in Morehead, Kentucky. His responsibilities included enrollment, financial aid, early college (dual credit), advising and retention, disability services, recreation and wellness, counseling and health services, housing, and NCAA athletics. He spent 16 years at Central Michigan University in a number of positions, including director of the Office of Student Success; an appointment over Special Projects for Enrollment Management and Retention Initiatives, and as director/chair of First-Year Seminars.
In addition to administrative positions, Dr. Bentley taught courses in Leadership, Honors and Human Environmental Studies at CMU. He was also a visiting scholar for the John N. Gardner Institute for Excellence in Undergraduate Education in Brevard, North Carolina.
Dr. Bentley earned a Doctorate in Educational Leadership, a Master of Arts in Educational Administration and Community Leadership, and a Bachelor of Science in Secondary Education, all from Central Michigan University.