Attention Patients: As a response to COVID-19 (Novel Coronavirus), in order to keep our clinic staff safe, we will no longer accommodate walk-in appointments. Please call Birkam Health Center to schedule your appointment at 231-591-2614 Option 2 or visit the Healthy Dog Portal. If you have questions or concerns about COVID-19, please call the Birkam Nurse Line at 231-591-2053. If you are experiencing life-threatening symptoms or have an emergency, please call 911.
Changes to Allergy Immunotherapy for Faculty and Staff
Due to COVID-19 and the heightened risk of exposure within a health center, Birkam Health Center is unable to provide Allergy Shots to Ferris Faculty and Staff. This service will continue for students only. We apologize for any inconvenience this may cause. Please contact Birkam Health Center if you need assistance finding a location to provide this medical service.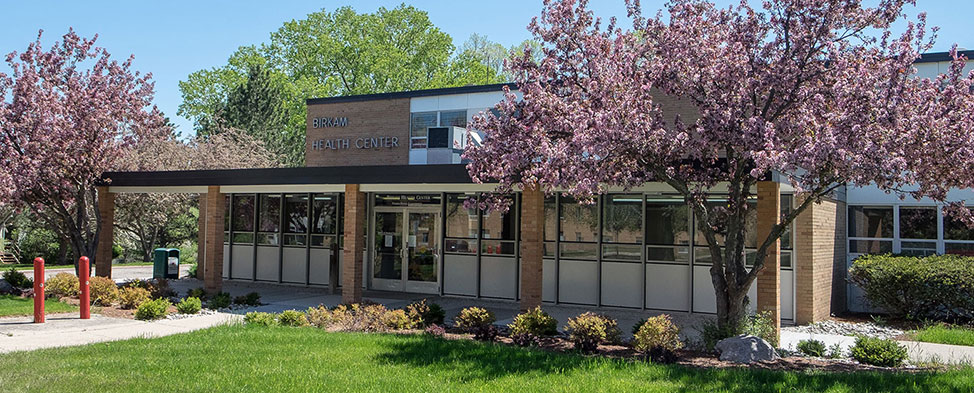 The Birkam Health Center is your on campus resource to keep you healthy while achieving your academic success. We offer primary care services as well as acute care for all Ferris students and their dependents. Walk-in appointments may be available, but urge students to use the Healthy Dog Student Health Portal to schedule an appointment most convenient with their schedule.
Please read about our services, including our office hours, insurance, etc. and if you have any questions or concerns, please call us at (231) 591-2614 or contact at [email protected].
Anti-Discrimination Statement
It is the policy of the Birkam Health and Counseling Centers to serve all students who are eligible for services without regard to race, national origin, color, religion, sex, sexual orientation, gender identity and expression, disability (physical or mental), age, status as a parent, marital status, genetic information or any other status protected under applicable federal, state, and local laws. Respect for the dignity and worth of others should be the guiding principle for our relations with each other.
All of the Centers' staff are responsible for complying with this policy in carrying out their job duties.
Students who believe they have been subjected to discrimination should contact the Director of Birkam Health and Counseling Centers and / or the Office of Equal Opportunity at Ferris State University.