The Birkam Health Center has a fully licensed medical and nursing staff in addition to several support staff members. Our primary goal is to provide the best patient care and experience should you need to visit the health center.
---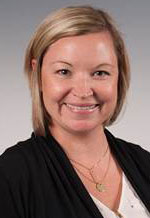 Lindsay Barber serves as the Director of Ferris State University's Birkam Health Center and Personal Counseling Center.
Lindsay has previously served as the associate director of the University of Houston Health Center. She is a 2007 graduate of Central Michigan University with a bachelor's degree in commercial recreation. In 2012, Lindsay earned her master's degree in healthcare administration, also from CMU. In all, Lindsay has more than nine years of health care administration experience and two years of higher education health care experience prior to her arrival at Ferris.
---
Dr. Peter VanDeMark serves as staff physician at Birkam Health Center.
Dr. VanDeMark has practiced in the Big Rapids area for more than 30 years, having been on the staff of Spectrum Health-Big Rapids Hospital while specializing in internal medicine. Dr. VanDeMark will help students, their families and other targeted university groups to achieve their optimum level of health.
---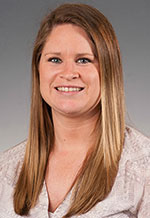 Nurse Practitioner Christy Bourdlais brings experience as a labor and delivery nurse at Spectrum Health-Big Rapids Hospital, and more recently, service with Primary Care Partners to her position at the Birkam Health Center.
She graduated from Ferris in 2010 with a Bachelor of Science in Nursing and completed her Master of Science in Nursing, as a Certified Nurse Practitioner, from the University of Cincinnati in 2014. Her specialty areas include contraception counseling and treatment, well-woman exams, sexually transmitted infection counseling, and treatment and fertility planning and issues. As a board certified women's health nurse practitioner, Bourdlais can offer assistance to students, whether their needs are physical or emotional.