About Ferris State University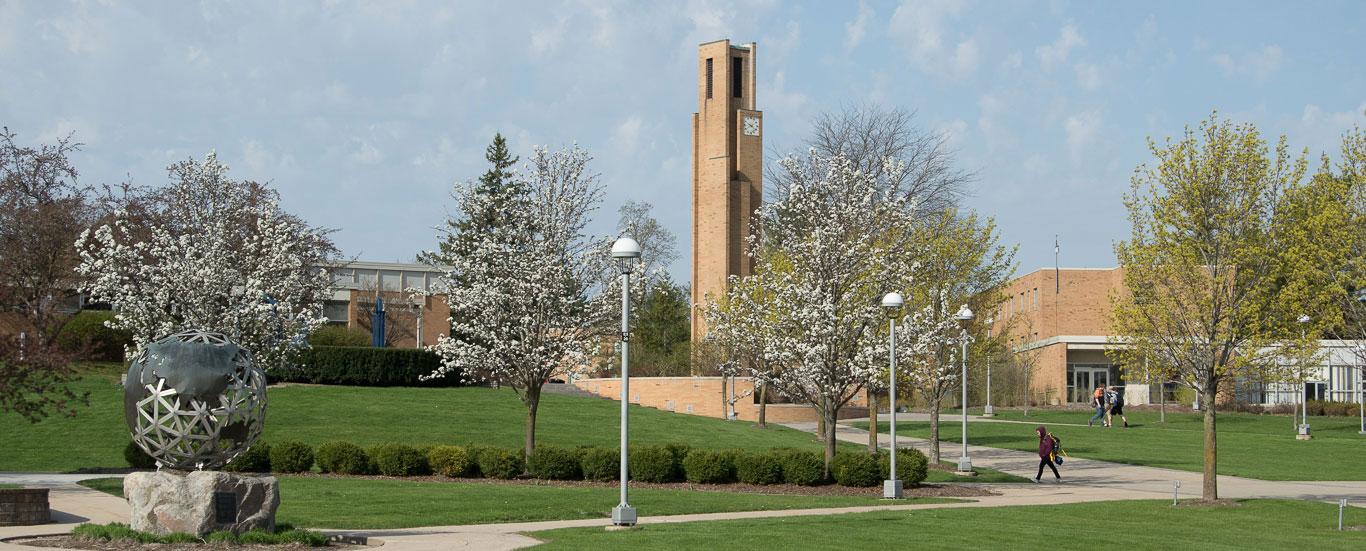 Ferris State University is a mid-sized four-year public university known for its quality of instruction and large selection of academic programs, ranging from associate to doctoral degrees, offered through eight degree-granting colleges: Arts, Sciences, and Education, Business, Education and Human Services, Engineering Technology, Health Professions, Kendall College of Art and Design, Michigan College of Optometry, and Pharmacy. The university's main campus is located in scenic Big Rapids, Michigan.
Mission and Core Values
The university strives to align its practices and resources in support of its core values of collaboration, diversity, ethical community, excellence, learning and opportunity. Ferris' mission is to prepare students for successful careers, responsible citizenship and lifelong learning. Through its many partnerships and its career-oriented, broad-based education, Ferris serves our rapidly changing global economy and society. For more information on the university's mission and core values, visit ferris.edu/ferrisfaq/mission.htm.
Programs
Ferris equips students to contribute to a changing world by offering a challenging, adaptive curriculum that consists of a unique blend of technical and professional programs based in traditional academic areas and driven by industry demand. Its many and varied program offerings include several degrees that are unique in Michigan or the United States. For a complete list of degree programs, visit catalog.ferris.edu/degrees.
Hands-on Learning and Instruction
Students at Ferris have exceptional access to faculty due to the university's low student-faculty ratio and small class sizes, which promote more engaging instruction, one-on-one career advice and professional connections. Courses at Ferris State are taught by credentialed, dedicated instructors who have real-world experience in their fields and provide relevant, adaptive coursework with an emphasis on hands-on learning. For more information on academics at Ferris, visit ferris.edu/HTMLS/academics.
Ferris is committed to ensuring that students gain real-world skills outside of the classroom. The university works with numerous external partners, including alumni, industry and professional leaders, for program direction and networking advantages. It also requires program-related internships in most of its degree programs. As a result, the majority of students enrolled in bachelor's or more advanced degree programs participate in internships that support their personal and professional growth. For more information on student internship activities, visit ferris.edu/news/ferris-in-news/interns.htm.
Facilities
Ferris State also partners with industry leaders to maintain state-of-the-art equipment and technology. Its instructional and supportive spaces include the following high-quality facilities:
Centers for Welding Excellence and Advanced Manufacturing (Aug. 2018)
College of Pharmacy Center for Innovational Learning and Research
Dow Interactive Eye Learning Center
Ferris Library for Information, Technology and Education
Granger Center for Construction and HVACR
Heavy Equipment Lab
Information Security and Intelligence Digital Forensics Lab
National Elastomer Center
Shimadzu Core Laboratory
Television and Digital Media Production Studio
Ferris offers a number of facilities to support amenities for commuter and residential students, including University Center, its popular student union and activity space. For more on University Center, visit ferris.edu/universitycenter. It recently completed construction of North Hall, a state-of-the-art living/learning residence hall to enhance the first-year student experience. For more information about North Hall, visit ferris.edu/housing/Living_On_Campus/halls/NorthHall.htm.
Statewide and Transfer Offerings
Ferris serves students from many different backgrounds and regions, and provides access to educational opportunities through a traditional, residential college experience on the university's main campus in Big Rapids or through its statewide locations, online learning, and partnerships with community colleges and career technical centers.
More than any institution in the state, Ferris State has connected with Michigan community colleges, creating partnerships on multiple campuses and expanding its online offerings to allow students to complete coursework at their local community colleges toward a Ferris degree. For more information about Ferris' statewide locations, visit ferris.edu/statewide.
More students choose to transfer to Ferris than any other university in Michigan. Ferris offers a unique transfer process that allows students to build on their education with little or no loss of credit. For more information on transfer opportunities, visit ferris.edu/admissions/Transfer.
University History
Ferris was founded in 1884 by Woodbridge and Helen Ferris as the privately-owned Big Rapids Industrial School. It became a state institution in 1950 and a state university in 1987. Since its beginning, Ferris has been dedicated to providing students of diverse backgrounds with educational opportunities for rewarding professional and civic lives. For more information on the history of the university, visit ferris.edu/alumni/Historical.