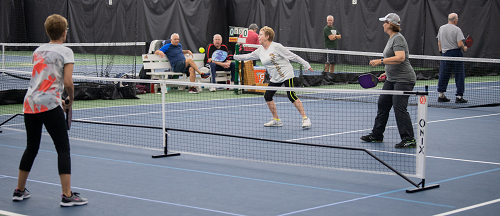 ADULT PICKLEBALL (Beginner Level)

Tuesdays 5:30-6:30pm, Thursdays 5:30-6:30pm
Pickleball is a fun sport that combines elements of tennis, badminton, and ping-pong. It is the fastest growing paddle sport in the US! Students will learn the basic strokes and scoring system. The Pickleball court is small and the ball bounces slowly, so anyone can play in the first class! Bring your tennis/gym shoes and we will provide the paddles and fun!

| | | |
| --- | --- | --- |
| | Full Session* | Drop-In |
| Member | $36 | $7/class |
| Non-Member | $46 | $9/class |

BR PICKLEBALL DROP-IN LEAGUE (Ages 18 & Up)

Mondays 5:00-7:00pm, Wednesdays 5:00-7:00pm, Fridays 8:00-10:00am
This league is run by the Big Rapids Pickleball Group. Paddles are available and instruction is provided for beginners. Come to learn and play. This league is open to all levels. For more information, please contact either the evening coordinator, Gary Lenon at [email protected] or the morning coordinator, Jerry Garner at [email protected]. You can also find more information on the BR Pickleball FB page. No registration needed. $5 paid in cash to group leader.

*A full session is one set day a week for six weeks. To attend both days each week for six weeks, please sign up for two full sessions.