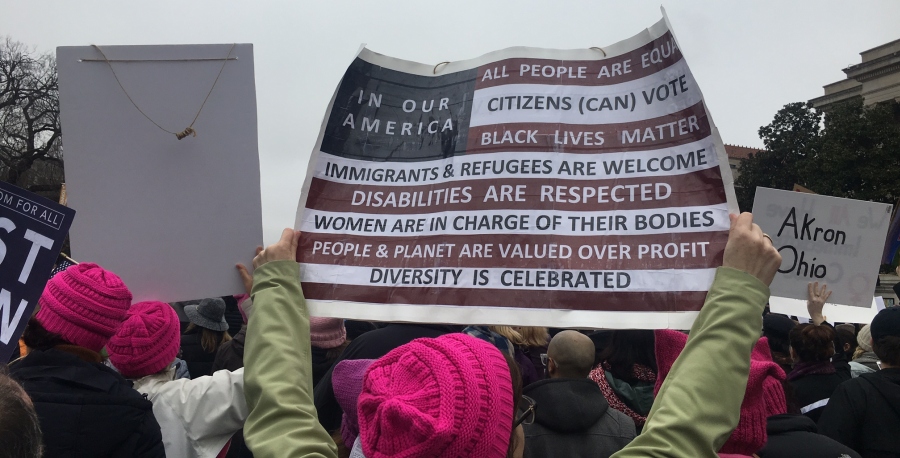 By Deirdre Fagan
Having taught American, women's, and minority literature for twenty years, the rights of women and minorities, or lack thereof, have been topics in my courses for two decades, which I remind myself is not even half the time it took for women to gain the right to vote in America from the Seneca Falls Convention in 1848 to the 19th Amendment in 1920. It's less than a tenth of the time it took slaves to gain their freedom in America. We had our first black president in the time I've been teaching and we've also seen the backlash that President Barack Obama received as a black president, some of the evidence of which is on display at Ferris' own Jim Crow Museum. We have seen same-sex marriage legalized in all 50 states; we have also seen minorities of various races, religions, cultures, ethnicities, and sexualities both gain and lose equality in various spheres of life. Having experienced the surprise of students when they learned through discussion and watching the film, Iron Jawed Angels, that women's right to vote wasn't gained quickly or without protest, resistance, and violence, and by experiencing similar surprise by students in my honors Black Literature course at the depth and ongoing extent of racism evidenced by the racist objects at the Jim Crow museum, when I learned there would be a Women's March in Washington, D.C., on January 21, 2017, I knew I had to be there.
I am an educator on these topics. I am a mother of a daughter and son whom I have raised to expect and respect equality. I am a woman who finds the displays in the Museum of Sexist Objects reflect the memories of my childhood and the attitudes still present in the culture of my adulthood. I need to be a part of the fight against injustice and the fight for equality, if not for myself, then for my students, for my children, and for all of us and our children. I needed to march.
I don't like crowds. I regularly avoid them. I hadn't been to D.C. in 15 years. I did not know my way around. I did, however, have a good friend who moved to nearby Maryland the previous summer, an unexpected cheap fare, an unanticipated open weekend early in the university term, and an opportunity to be a part of American history I could forever share not only with my students, but also with others. My values and this sequence of opportunities made it possible for me to experience first hand the energy and power of the Women's March.
Thanks to social media, the crowds grew exponentially worldwide and the March gained media publicity with increased momentum. With each daily check on the March from November when I booked my tickets to the event the third week in January, I learned the expected numbers had increased and other Marches had cropped up on every continent around the world. People were taking to the streets en masse.
The day before the March, I drove south to the Grand Rapids airport with bubbling excitement and some measure of trepidation. While my brother had attended various protests in San Francisco and my father in New York in the 2000s, I had only been physically involved in a protest on one other occasion.
Protests are associated with violence, and violence against minorities and women had been reported seemingly daily since our 2016 Presidential Election. I was traveling on the day of the Presidential Inauguration and the March was as much for women and minorities as it was against that inauguration. The numbers were still out on how many were attending the inauguration, but 250,000 were expected at the March. My growing anxiety about the crowds and the possibility of violence wasn't going to keep me home, but it meant I was going to be on guard. I was meeting a pro at the airport, however, a friend and colleague from Florida who was part of the first wave of feminism and had been to many such marches; she assured me I would be surprised by how friendly and kind everyone would be. I wasn't worried about the marchers, though. I was worried about the many who didn't support the March.
Having passed through airport security in Grand Rapids, I slowly rolled my suitcase to the gate and immediately noticed the preponderance of females in the waiting area. I also spotted my first, soon to be famous, pink hats which had been knitted frantically throughout the country, wiping out stores of pink yarn in various venues. (Some would still be knitting on the plane and generously donating their products to those without.)
Traveling alone, I sat adjacent to the majority. Moments later, a woman leapt up and began corralling women for a group photo by the gate. "If you are going to the Women's March, line up here for a group photo!" I quickly wrapped my half eaten sandwich and raced over. I have no idea whether I made it into the pictures that were taken that day, but I stood proudly on the edge of at least thirty women, feeling the momentum of something so much greater than I had imagined. My eyes began to fill with tears.
Following an additional Transportation Security Administration check, announced as "Ladies, I'm sure you know why we will be doing an extra I.D. check as you board," we filed onto the plane.
Midway through the flight, a woman was introduced by a flight attendant as someone headed to the March who wanted to take a head count of those going. The woman walked the aisle counting our raised hands. Ninety-three out of the one hundred forty-three passengers were on their way to the March! Wow. There was raucous applause.
While flying to the March, I was seated next to a woman and her grown daughter from Kalamazoo who had both been to both of President Obama's inaugurations. We talked about the thousands of people attending and the aftermath of the election and the building excitement on the plane. They were D.C. crowd veterans so they had an entire plan in place for the 36 hours they would spend traveling. They had materials to make their signs and their hats were ready. I felt like a novice. The woman further explained how she, her daughter, and grandson had been to the first Obama inauguration. Her grandson, sandwiched between the torsos of adults and unable to breathe deeply, had passed out in the crowd. With the help of bystanders and the police, they had managed to get an ambulance through the belly-to-belly crowd. They had watched what remained of the inauguration on a TV from the Emergency Room at a nearby hospital. My claustrophobia was beginning to kick in.
Before landing, the flight attendants got on the intercom and encouraged the marchers: "For those of you attending the March, thank you! We will be marching with you in spirit!"
That night, relaxing on my friend's sofa and discussing the next day, we decided what we would wear, what we would pack to eat and drink, and when we would leave to beat the crowds. I was worried about wearing a scarf because it seemed like something someone could yank if they were trying to grab me. I was worried about no access to food or water. We were determining where we would meet should we get separated by the crowd. My friend was surprised by my anxiety about the violence.
That night the media began reporting on the roughly 100 anarchists who, following the presidential inauguration, began rioting and looting stores near the Capitol. Many were arrested. This was where we would be headed at 7:30 a.m. I kept checking the news and social media for updates on the violence throughout the night. My sleep would be fitful and not long.
After saying goodnight to my hosts, I texted my husband to also say goodnight and tell him I loved him. I promised he and the kids I would text throughout the March so he would know I was okay. I then wrote a note to myself about why I was marching:
I am marching for the right to bear children, not arms in schools; for the right to a sustainable earth, not to the destruction of it; for the right to an education, regardless of one's income, public standing, or neighborhood; for the right to your own body, and who enters and leaves it; for the right to healthcare regardless of who you are; for the right to opportunity, regardless of your color, sex, class, creed; for a world where white and rich doesn't trump everything else; for my children, and for a country that deserves better, so much better than this.
On the day of the March my friend, her teenage daughter, and I walked the few blocks to the train station wondering if the layers we were wearing would be enough to shield from the cold. My friend's daughter assured us the crowds would warm us; she was right. After posing for some pictures at the station, we boarded the train and slowly were moved back and back as more boarded until the signs being carried were being held to the ceiling with raised arms because shoulder to shoulder there was no room for signage. The pink hats overwhelmed the hues of the train creating a sea of pink that reminded us we were united.
When we exited the train station, we bought Women's March t-shirts by some folks capitalizing on the event, donned them quickly, and joined the swarms of people walking toward the Capitol.
We stood in large crowds that day, inching slowly a footfall at a time to our destinations, often not knowing whether we were headed in the right direction, and at one point even ending up in a dead end that it took us over an hour and a half to leave, holding onto each other's hoods as we slowly made our way one step per minute back through the crowd. We could hardly see over the heads and signs. We stood with men, women, children, and babies. We stood on lines for the few portable bathrooms that were not locked (there were many left from the inauguration the day before, but many had been padlocked). Our feet ached and our voices tired but we were never cold in body or heart. The hordes of people raising their voices in chant, the signage that alerted the media to the various reasons for marching, the smiles and nods and laughter and union were overwhelmingly beautiful. My eyes filled with tears many times as emotion poured through me. Many times my voice cracked as I tried to speak to my friend about what we were experiencing and witnessing.
It is hard to bring mobs of people together without some form of violence occurring. What was anticipated to be 250,000 became 500,000, and not a march, but a meandering sort of inching as the crowds far exceeded what the route could manage. I later learned that over 4 million women, men, and children marched all over the world that day.
"Tell me what democracy looks like!"
"This is what democracy like!"
Men: "Her body her choice!"
Women: "My body my choice!"
Black people: "Black lives matter!"
All people: "Black lives matter!"
One little girl proudly leading a chant: "This is what a feminist looks like!"
The crowd: "This is what a feminist looks like!"
When we reached the White House, I posed for a picture with my jacket open showing my March shirt and I shouted with the crowds, "Whose house? Our house!"
I was in my twenties when my older brother pointed out to me that the White House is OUR house. It belongs to America. It belongs to Americans. The person who occupies it temporarily borrows it from the citizens. The president leads for a short time. And then another president leads for a short time. We live in a democracy. At the end of the day, that house belongs to us, America's people.
I have never felt more American than I did taking to the streets on January 21, 2017, to defend what makes America great, including the people in America who raised a voice and were a force willing to spend their money and time traveling from all over the country and risking personal harm to leave with aching feet, arms, and vocal chords to stand up for America's greatness.
My friends and I spent eight hours at the March, trying to meet up with the other women, men, and children we knew who had traveled, some many States, to raise their voices, but were unable to reach one another due to limited cell phone service and unimaginable crowds.
At the end of the day, exhausted, hoarse, and unable to board a train, we road silently home in a cab exhilarated and drained by the experience, and immensely grateful to have been a part of it. We had joined thousands of Americans and others around the world in our defense of the liberties our government already affords and those we still believe it should. We were specks among the thousands in the photos and we had made our voices heard. We had made history. And we had not witnessed a single act of violence, nor was one reported from anywhere in the world. 4 million marchers and not a single act of violence reported. Not a single one.
I boarded my return flight with my aching legs and then watched from my seat as other marchers boarded in their t-shirts and hats. One of the final women to board, talking to no one and to everyone as she walked to the back of the plane to secure a seat, said over and over, "Don't give up the fight, Ladies. It's not over, Ladies! Go home and keep fighting! Run for the school board. Run for office. Make phone calls to your senators. Send letters. It is not over. This is not the end. Don't give up the fight ladies! It's not over…."
I do not know how to knit and was not one of the lucky recipients of a gifted pink hat that day, but weeks later a friend in Canada picked up her knitting needles for the first time in years and knitted two pink hats which she sent to my daughter and me with a Valentine's Day card. In her note she wrote: "Wear these hats in good health and glorious defiance. There is sister magic knitted into them."
That dear knitting friend of mine who retired from the U.S. to Canada with her husband, a Canadian native, was my first college English teacher at a college in Arizona, way back in 1988. She is one of the reasons I wanted to teach. She inspires me still.