Short-Term Programs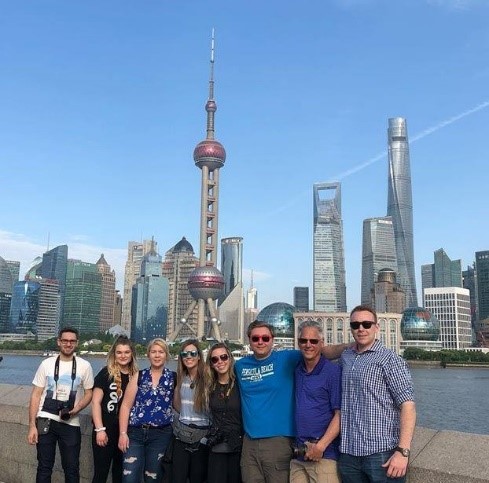 Ferris students in Shanghai, China for Summer 2018
Faculty-led Short-Term Programs
Short-term programs usually range from two to four weeks, and you can earn three to six credits. One type of short-term program is faculty-led; these programs typically run during the summer and are academic classes led by professors who conduct each respective program. For an idea of programs that have run in the past, see below.
The application period for faculty-led programs generally runs from mid-October until late February. Updated information regarding specific dates will go out through university-wide announcements.
To request information about a program, go to Request Information. If you are ready to start an application, learn how to start an application here.
With the continuing COVID crisis and travel challenges, at this time all University-sponsored travel abroad is suspended for students, faculty and staff until further notice; no study abroad programs will be offered for Summer 2022 or Fall 2022. Semester exchange study abroad programs are expected to resume in Spring 2023, and faculty-led study abroad programs are expected to resume in Summer 2023. If you would like to arrange an advising appointment to discuss future study abroad opportunities, please contact: [email protected]
Several of our partners and affiliates have summer study abroad programs available. For more information, click on the links below.
Partner Schools:
Affiliate Programs