Friday, July 19th, 2019
The Seventh Annual Lighthouse Summer Symposium for TESOL professionals is slated for July 19th, 2019.
The Annual Lighthouse Symposium, developed in 2013 by the Office of International Education at Ferris State, seeks to build partnerships with other institutions by bringing local and global colleagues to collaborate and strengthen teaching and learning. Gathered in a collegial setting, our TESOL friends engage in workshop-style sessions to explore innovative pedagogical practices and foster professional camaraderie.
Reimagining IEP for the Future
It has been said change is the only constant in life. Intensive English Programs across the country are grappling with a major change at the moment—change unleashed by geo-economic, geo-political, and technological winds. And change, also, is the answer to ride the current doldrums. At the Symposium this year, we want to start a discussion about this change we are facing. Collectively, collaboratively, we can reimagine IEP for tomorrow.
We are inviting IEP coordinators/directors and teachers from all over Michigan and the neighboring states for a one-day Symposium. The symposium will give us a chance to take stock of what we are doing, what challenges we are facing, and what actions and plans are in motion to sustain our programs, etc. No single person has all the answers, but the wealth of experience our colleagues bring to the table will certainly generate some creative sparks.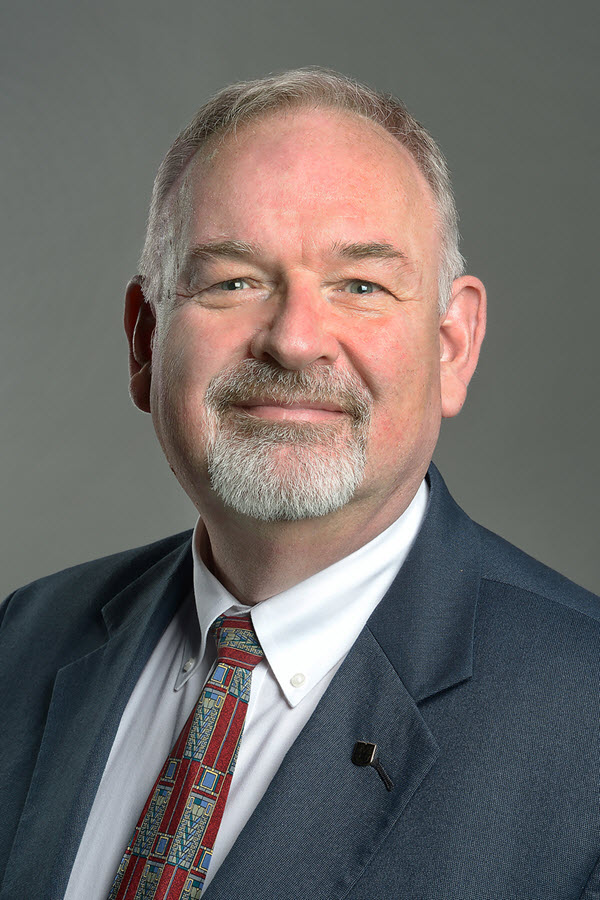 We are delighted Dr. Mark Algren, a world-renowned luminary in the field of Intensive English Programs, will facilitate the discussions.
Mark Algren's career in international education began in 1979, teaching English in a Hong Kong secondary school. He has spent 15 years abroad as a teacher and university English program administrator in Hong Kong, Saudi Arabia and the United Arab Emirates. Additionally, he has been a teacher and program director in the United States, formerly at the University of Kansas and now as the Executive Director of the Center for English Language Learning at the University of Missouri. Mark has been active in the profession, serving as a site reviewer for CEA, and on the TESOL International Association Board of Directors as Conference Chair (2003, Baltimore) and President, 2009-2010. Mark has published several articles and book chapters, and he has made more than 135 presentations at conferences in 24 countries on 5 continents. Recently he has been leading a privately-organized group looking at the future of English language programs.
Schedule and Presentations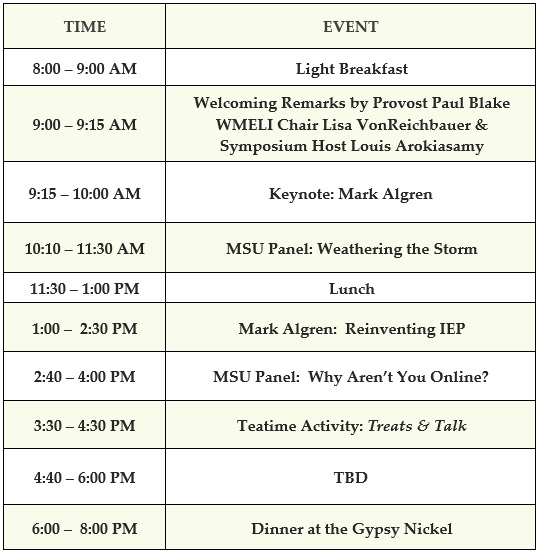 Mark Algren: Whither the IEP? The Future for U.S. University English Language Programs
Since Spring 2015, U.S. post-secondary English program enrollments have declined by over 40%. A number of programs across the nation have closed and higher education news outlets regularly report new challenges for USA-bound students. Against this backdrop of seemingly never-ending bad news, English language programs are looking for ways to survive existential declines in enrollments. Misery loves company, and it's easy to slide into "Woe is us" (or is it "we'?) as programs shrink or close, and colleagues leave jobs or even the field. Is there hope? Can we survive? We must and we will, because if we don't, someone will invent us.
Mark Algren: Reinventing the IEP
"Old hands" in university-level English programs will point to predictable the enrollment drops precipitated by major world events. Also predictable was the recovery that followed, as program enrollments climbed steadily through spring 2015, and since then have fallen by over 40%. Many field leaders agree that there is something different about this drop, because there was no causal event. The decline is shaking up the industry in the USA. How can IEPs/ELPs respond? In this workshop, participants will learn about responses implemented by some IEPs, and they will brainstorm to develop their own responses. Participants will also learn about methods for making their case to higher administration in a way that is meaningful to that audience.
MSU Panel: Weathering the Storm
Many university IEPs currently face budgetary and enrollment constraints and are looking to diversify offerings. One path is to develop online courses and programs. In this session, members of our administration and educational technology team will share how our IEP developed an in-house learning path to empower our instructors to develop and teach great online courses. Learn how, from that foundation, we created an online task force and developed a robust summer Online Academic English Program, an online Vocabulary course, and an online TESOL Certificate Program. Come away with best practices, materials, and ideas to get your IEP started.
Panelists: Dustin De Felice, Luca Giupponi, Austin Kaufmann, Carlee Salas, Larry Zwier
MSU Panel: Why Aren't You Online?
Part One of this interactive session begins with participants in small groups generating lists of roadblocks, constraints, and concerns related to moving online. Panelists address these concerns, sharing from their experiences, dispelling myths, allaying fears, and offering possible solutions. Part Two offers participants hands-on "sandbox" opportunities to explore some of our online course offerings for themselves—either from the perspective of student or instructor. Other computer stations will be set up for participants to learn about and explore many of the web and mobile app tools we use to make our online courses as success.
Panelists: Dustin De Felice, Luca Giupponi, Carlee Salas, Larry Zwier
Danielle Petersen (facilitator): Treats & Talk
Take a short break from grappling with the issues and enjoy some teatime treats while connecting with new and returning friends.