Options: Bachelor's
Locations: Main Campus
Why Choose Nursing?
Nursing is the largest health care profession with workforce shortages anticipated for the next two decades. Earnings are above average, particularly for advanced practice nurses who have additional education and certifications. Graduates of the Bachelor of Science in Nursing (BSN) program at Ferris are eligible to write the National Council Licensure Exam (NCLEX-RN) to become a registered nurse.
Registered Nurses (RNs) with the BSN degree are preferentially hired. RNs with a BSN degree can anticipate opportunities in hospital nursing with positions to include medical, surgery, obstetrics, pediatrics, psychiatric, emergency or intensive care units. RNs can also work in a variety ambulatory care settings such as clinics, emergency medical centers, surgicenters and health maintenance organizations (HMOs).
The nursing program at Ferris is a five semester professional sequence that follows the equivalent of one year of pre-requisite coursework and is intended for traditional students who have not earned a college degree. The Pre-Licensure BSN program small cohort sizes allow for personal contact with highly experienced clinicians. Graduates of the BSN program can continue their education in the Master of Science in Nursing (MSN) programs.
Career Opportunities
Due to the current and projected nursing shortage, faster than average growth is expected through the year 2020 and beyond. This increased need is based on industry growth and the projected replacement of existing practicing nurses.
Average full-time RNs earn $22 - $50 per hour nationally. The median annual salary for a full-time staff RN in 2018 was $71,730. Advanced practice nurses with education beyond the BSN can earn salaries up to $115,000 per year, depending on the specialty and location of employment.
Nursing Program Spotlight
More Information
College of Health Professions
Ferris State University
200 Ferris Drive
Big Rapids, MI 49307
231-591-2270
[email protected]
The Bachelor of Science in Nursing program at Ferris State University is accredited by the Commission on Collegiate Nursing Education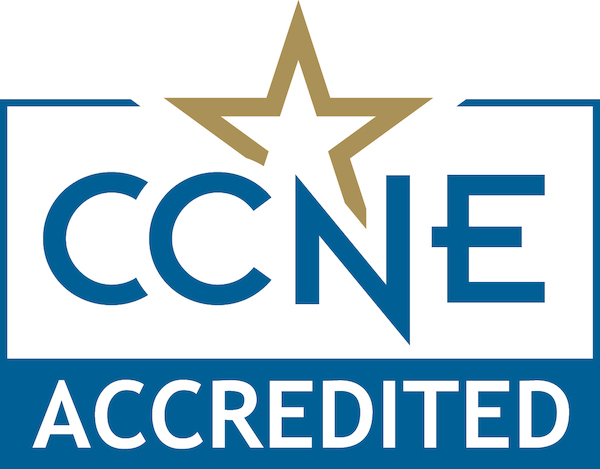 *Prior to obtaining CCNE accreditation in 2020, the Bachelor of Science in Nursing program was accredited by the Accreditation Commission for Education in Nursing (ACEN) located at 3343 Peachtree Rd NE, Suite 850 Atlanta, GA 30326 Phone: 404-975-5000 Email: [email protected]