Woodbridge N. Ferris founded an institution of opportunity. Ferris State University has a long history of finding ways to help young people with limited resources obtain a top-flight education. We have proudly built on this history to create the Ferris Youth Initiative Johnson Scholars, which supports young people who are alumni of foster care.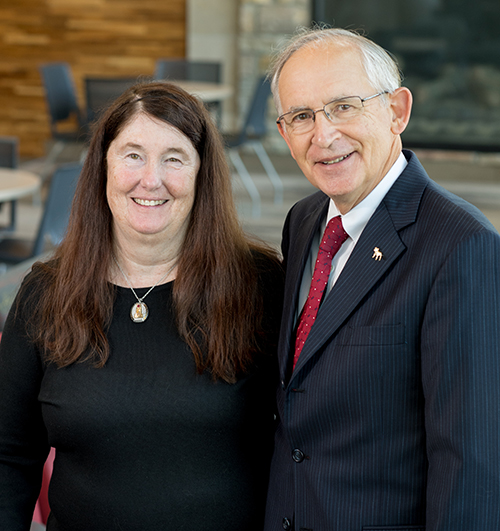 In 2019, Ferris State University President, David Eisler, and his wife, Patsy Eisler, created a $700,000 endowment to support the Ferris Youth Initiative Johnson Scholars program, formerly known as the Ferris Youth Initiative.
To this day, Patsy Eisler counts her blessings for being adopted at the age of eight months by a caring South Haven couple. Their love and support forever changed her life. To memorialize her adoptive parents, the late Norris and Irene Johnson of South Haven, the Eislers chose to support foster care alumni in obtaining a Ferris education.
"At Ferris commencements, I have heard the heart-warming stories of the success of our foster youth students and the obstacles they have overcome to earn their degree," Patsy said. "The difference Ferris makes in these young lives is profound."
"Because Patsy was adopted, she holds foster care youth near and dear to her heart," David said.
This initiative is one example of how our students, faculty, and staff continue to accept Mr. Ferris' challenge "to make the world a better place."
Mission
The Ferris Youth Initiative Johnson Scholars program positively impacts the lives of youth who are alumni of foster care and who attend Ferris State University. The program is designed to provide support and learning opportunities throughout the student's academic career by incorporating academic success, character development, and positive approaches to their holistic well-being.
Goals/Purpose
The Goals of the Ferris Youth Initiative Johnson Scholars program are:
to help students successfully complete college degrees;


to provide dedicated academic guidance and support services;


to help build character and life skills in preparation for the world of work;


to provide specialized mentoring by faculty and staff; and


to help students develop effective coping strategies for greater confidence and success.
Camellia Network: The Challenge We Face video