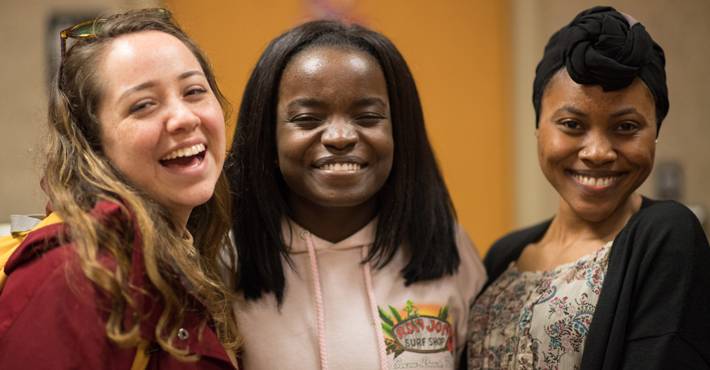 The Ferris Youth Initiative has been established to assist participants with their personal and academic success at Ferris State University. As a member of the Ferris Youth Initiative, you will be matched with a faculty or staff member who is prepared to assist you with concerns you may have about transitioning to college, academic support, personal wellness, getting involved on campus, time management, etc. To support you in maximizing the value of your experience in the mentoring program, the following guidelines are provided.
Getting Started
Recognize the Value and Limits of the Relationship

Like any relationship, the mentee/mentor relationship involves a dynamic process in which the uniqueness, individuality, and expertise of each member should be respected. Be open to the information you are offered, some of the advice may seem irrelevant to you, but you may find it useful later. Other suggestions may not fit your particular personality style or approach. Ultimately it is your choice as to how you weave the insights gained into your own evolving style.

Prepare for Your Role in the Mentoring Relationship:

Your mentor will be giving his or her time to share experiences and perspectives to assist you with your transition to college. He or she may also provide feedback to aid you in preparing for your future as a college graduate. Actively seek feedback from your mentor and be as specific as possible when asking for information, ideas and suggestions. Be receptive to the feedback and use the information to improve yourself and your performance in class and out of class.

Clarify Your Interests and Needs:

Identify the goals you have for this mentoring relationship. Consider what you would like to learn from your experience. You may wish to focus on such areas as academic support, time management, making connections, or balancing work, academics, and social life. You will be asked to share your development plan with your mentor. This can serve as a tool to aid you in addressing possible goals.
Mentee/Mentor Meetings
Setting up Connection Meetings

Take the responsibility for setting Connection meetings with your mentor. Experience has shown that relationships of this kind are most successful when the mentee takes the responsibility for managing the relationship. Use e-mail, letters, phone, texting, or fax as methods to maintain communication with your mentor. Remember that you and your mentor need to make a commitment to meet for a total of 4 hours per month.

Structure Your First Meeting:
It can be helpful to structure your first meeting because both individuals often begin a mentoring relationship with high expectations and some uncertainty about how to proceed. Give some thought to how you would like the initial meeting to go. For example, you might consider the following outline:

Share your personal background and reason for participating in the FYI Mentoring Program.
Review your goals with your mentor regarding attending college and why you chose Ferris State University.
Identify ways your mentor can support you both academically and personally.
Establish some topics or areas to address for your next Connection time.
Summarize key things that you've learned and express appreciation for the meeting.

Agree Upon the Duration, Frequency and Length of Your Meeting

Four one hour meetings each month are required for the mentoring program. Agree upon when and where you will meet (your mentor's office, a breakfast meeting, etc.). Plan to keep your commitments and be on time for your Connection meetings with your mentor.

Clarify Confidentiality

Some mentee and mentor pairs will feel a need for complete confidentiality in their relationship, others will not. It is critical that you and your mentor clarify the limits of confidentiality in your relationship.
General Conversation Tips
Your mentor has a wide range of life experiences; try tapping into these experiences by asking follow-up questions. Also, ask your mentor specific questions about his or her career. This practice may give your mentor some insight into the decisions you may be facing.
Here is a list of five thought-provoking questions you may want to use the next time you sit down with your mentor. Take some time to answer these questions yourself before sharing them with your mentor. This way you can start a dialogue about each question.

What is your greatest talent? What are some things you do really well?
How would your best friend describe your best characteristics and qualities?
What is the most important lesson you have learned in your life?
What is the biggest mistake you have ever made and what did you learn from it?
Who are some of the people you admire and why?

You may also want to share some of these more general questions with your mentor to get your discussions going.

What did you do after you graduated from high school? Would you do that again?
What do you like most about your work?
In what ways did your education prepare you for your job?
If you could go back to high school, what would you do differently?
How did you choose your career?
Did you ever have a mentor? Do you have one now? How did that person help you?
What are your favorite, book, movie television show, and food?
Remember, this is an opportunity for each of you to get to know each other better
Manage the Mentoring Relationship
Set Goals for Each Subsequent Connection Meeting

Just as it helps to structure your initial meeting, you can maximize your time together by setting goals for future meetings. As with all goal-setting, you do not need to strictly adhere to the goals you initially set; more vital matters or pressing priorities may arise. Some advanced planning can keep your relationship productive and worthwhile for both participants.

Bring Closure to Your Relationship

Mentoring relationships are not intended to be permanent, ongoing relationships. This program is specifically time-limited to allow you to maximize opportunities for learning without long-term obligations from either party. At the same time, after the formal program's conclusion, you may continue your relationship informally, if you wish. Upon completion of the "FYI" program, it is important to make a special effort to summarize your learning and show your appreciation for your mentor's time and efforts.